Gold Coast is a full service mortgage business school here to help you get your Mortgage Loan Originator (MLO) license and to assist you as your career progresses.  As a licensed MLO, you are qualified to originate a wide variety of products thus creating numerous income opportunities.
All courses are taught by industry experienced professionals who understand what you need to know to be successful in your career.  Classes are designed to combine the course material with real world application to provide useful and relevant information in an engaging format that you will truly enjoy.
As Florida's leading professional licensing school, we are dedicated to helping you from start to finish.  More information about our pre-license mortgage course can be found on the course schedule and requirements tabs.  If you have any questions, don't hesitate to contact our helpful Career Counselors at 1-800-732-9140.
To register online, use the drop down menu in the "Schedule My Course" box to select a campus location and start date. If you have any questions or would like to register by phone, please contact our helpful Career Counselors at 1-800-732-9140.
20- Hour SAFE Comprehensive Classroom Course:
Full-Service (Includes the Cram Review Course) $399
Basic Course $299
20-Hour SAFE Comprehensive Course
Weekend : 2 1/2 Days  |  Fri 1:00pm- 6:00pm & Sat-Sun  9:00am-6:30pm
Doral
North Dade
Broward
Boca Raton
Lantana
Jan 6
Jul 7
Feb 3
Jan 20
Feb 10
Jan 13
Feb 24
Sept 29
Apr 21
Mar 3
Apr 21
Mar 10
Apr 7
Oct 20
Jun 9
May 12
Jun 2
Apr 28
May 5
Dec 2
Aug 11
Aug 18
Jul 14
Jul 28
Jun 16
Oct 13
Sept 8
Oct 27
Oct 6
Dec 9
Nov 3
Dec 16
 Nov 17
Weekdays:  3 Days  |  Tues/Wed/Thur  |  9:00am-5:00pm
Doral
Broward
Jan 31
Aug 15
Feb 7
Aug 8
Mar 21
Sept 5
Apr 4
Oct 3
May 23
Nov 14
Jun 6
Dec 6
Jul 25
This course fulfills the education requirement for becoming a mortgage loan originator.
Gold Coast is currently offering a free 4 hour comprehensive Florida law review with the purchase of our 20 hour courses!
Gold Coast offers a convenient weekend course in all five of our permanent facilities. The class meets Friday afternoon, and all day Saturday and Sunday. We also offer a mid-week course which meets Tuesday-Thursday in Broward.
Your tuition includes the course textbook, with numerous practice questions, a comprehensive 4-hour review of Florida law, and free review of the course for up to one year. Gold Coast's tuition also includes the $30 NMLS reporting fee that many others charge extra for.
NMLS Approval number: 1538
The 20 Hour Safe Comprehensive course is also offered online through the Association of Mortgage Educators (NMLS ID 1400214). This online course is focused on the National component, however, we include the online Florida Mortgage Loan Originator Review course at no additional charge. This allows online students to be fully prepared to pass both the Florida and National components of the mortgage exam and obtain their MLO license.
In order to obtain your Florida license, you must pass both the National and State Mortgage Loan Originator (MLO) exams.
Tuition for our online MLO course: $329.  (Includes the pre-license course and Florida CRAM.  Simply add the CRAM to the cart and use PromoCode: GOLDFLCR at checkout.)
Click here to register:   

Important information about the online course:
What is the format of the course? How is it delivered?
This is an instructor-led online course that is delivered through a Learning Management System (LMS). Interaction with the instructor and other students occurs via email and discussion threads within the course. There is

no

requirement for a webcam or to be online at a designated time for scheduled activities or discussions. You may log in whenever you want during the defined course session, but you must be active in the course from start date to end date. You must complete all course requirements by the course end date.
How many hours will it take me to complete the course?
The amount of time it will take to complete the course varies by student; however, for a 20-hour course, you should expect to spend at least 20 hours reading and completing the assignments during the class session. We advise that you spend, at minimum, 90 minutes a day to ensure that you complete the course before the course end date.
Does the course include a required textbook?
No. The main course material for each module is contained in a required reading assignment that you can save or print for note-taking and ongoing reference.
For answers to more frequently asked questions about this course, Click Here!
Gold Coast Schools has simplified the process for becoming a Mortgage Loan Originator, previously known as a Mortgage Broker, by taking the requirements and building our program to help our students every step along the way.
A summary of the basic requirements for becoming a Mortgage Loan Originator are as follows:
Apply to the NMLS for your Unique ID number
Complete 20 hours of NMLS approved pre-license education  (Take Gold Coast's 20 hour SAFE Comprehensive Course)
Apply for licensure and pay the applicable fees through the  NMLS website
Pass the NMLS National exam      (Our MLO Prep Course will help you do this)
Pass the Florida state law exam   (Our MLO Prep Course will help you do this)
For more information on the requirements for licensure, obtaining your unique ID number, applying for the exams, or applying for the license, you can visit the NMLS website at http://mortgage.nationwidelicensingsystem.org. or by phone at 240-386-4444.
If you have any questions, feel free to call us at 1-800-732-9140.
West Palm Beach (Lantana)
6216 S. Congress Avenue
Lantana, FL 33462
800-732-9140
From I-95:
Take I-95 to Lantana Road. Exit west on Lantana Road to Congress Ave. Turn left on Congress and then left into Atlantis Plaza.
From Turnpike:
(From the North) Take the turnpike to Lake Worth Road. Exit east on Lake Worth Road to Congress Ave. Turn right on Congress and then just past Lantana Road turn left into Atlantis Plaza.
(From the South) Take the turnpike to Boynton Beach Blvd. Exit east on Boynton Beach Blvd to Congress. Turn left (north) on Congress. Turn into Atlantis Plaza, just south of Lantana Road.
Boca Raton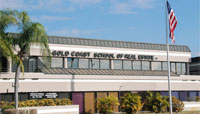 7035 Beracasa Way Suite 206
Boca Raton, FL 33433
800-732-9140
Located just 3 minutes West of I-95 on the North West corner of Palmetto & Powerline.
Tamarac (Broward)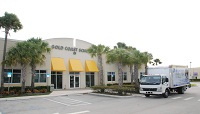 5600 Hiatus Road
Tamarac, FL 33321
800-732-9140
This Gold Coast building is located on the NE Corner of Hiatus Road and Commercial Blvd., approx. 1/8 mile East of the Sawgrass Expwy off of Commercial Blvd.
Registration for all Insurance and Construction classes are handled by the Gold Coast Professional Schools office at the Broward campus.
North Miami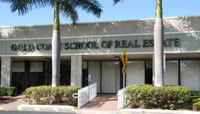 3577 N.E. 163rd Street
North Miami, FL 33160
800-732-9140
Located just minutes East of the Gold Glades Interchange (I-95, 826 and the Turnpike.) Exit on 163rd street and go East. Located in the Intracoastal Mall at N.E. 35th Ave.
South Dade (Doral)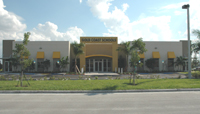 11250 N.W. 20th Street
Miami, FL 33172
800-732-9140
Because this is a new building, on a new street, you will not be able to find us on map search sites yet. Here are directions:
From the North:
Take the Florida Turnpike Extension south to NW 12th Street (exit # 27). Head east.Turn left on NW 111th Ave (just past the mall). Turn left on NW 20th Street. Building is on the left.
From the South:
Take the Florida Turnpike Extension north to NW 12th Street. Head east Turn left on NW 111th Ave (just past the mall). Turn left on NW 20th Street. Building is on the left.
From the East and Downtown Miami:
Head west on 836 to NW 107 Ave exit. Exit north on NW 107 Ave.Turn left on NW 12 St. Turn right on NW 111 Ave. Turn left on NW 20th St. Building is on left.