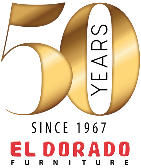 Glass Cutter/Finisher/Material Handler Duties and Responsibilities:
Cuts or breaks sheets of glass/mirror into specific lengths.
Measures dimensions, and marks cutting lines, using glass cutting tools.
Smooths and polishes rough edges, using sander or polishing wheels.
Breaks away excess glass by hand or with notched tool or glass pinchers.
Assembles glass pieces to furniture pieces.
Familiar with different types of Glass / Mirrors.
Performs a variety of tasks.
Will handle and work with Case Goods (furniture)
Will load and unload furniture from trailers/containers
Works under general supervision.
A certain degree of creativity and latitude is required.
Operates Fork-Lift equipment.
Familiarized with basic computer skills.
Schedule: Monday thru Sundays (rotating schedule with 2 days off)
Hours: 2:00pm thru 10:30pm
Salary Range: $12.00 thru $16.00
Respond to this ad:
El Dorado Furniture
Johanna Courts
jcourts@eldoradofurniture.com