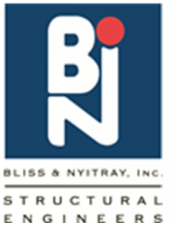 STRUCTURAL BUILDING INSPECTOR WANTED!
Imagine bringing your expertise and talents to a reputable, in-demand firm where you will get to problem solve and
inspect large-scale, highly visible, exciting projects such as sports stadiums, hotels, courthouses, and more!
Experience a wide variety of work and projects that other firms can't offer, and receive direct guidance from the same
engineers that designed each building. Grow your career with Bliss & Nyitray!
Due to growth and high demand for services, Bliss & Nyitray Inc., an established structural engineering firm, is searching for a
Building Inspector with a strong structural background in or around the West Palm Beach, FL area.
As a member of the team, you can expect:
· Hourly pay rate plus time-and-a-half after 40 hours and an annual bonus!
· Excellent benefits – Including 70% paid premiums for Medical, Dental, Life and Short Term Disability Insurance, Profit
Sharing plan including 401k, Paid Time Off, Paid Holidays, Advancement and Professional Development
· Great environment – This is an "open door" culture of sharing ideas and collaboration. If you need help, you will get it
here. Whether you're not busy or too busy, you will get the support and guidance you need.
· Reputation and quality of work – The firm has an incredible reputation in their industry and is known for the quality of
their work. They take on and are known for successfully completing highly visible projects such as major league sports
stadiums and large scale resort hotels.
· Advancement – As you grow your abilities, you can move up the ranks and take on greater responsibilities based on value
to the firm.
Job Qualifications:
· Civil Engineering or Structural Engineering graduate with Engineer in Training (EIT) License, or
· Registered Building Inspector, or
· Registered General Contractor, or
· At least 4 years of experience as a Building Inspector under the supervision of a Special Inspector, or
· Possess special inspection certifications from ACI, ICC, AISC, and PTI.
If you meet the above requirements, they want to hear from you.
Must be a US citizen or Green Card holder.
About the company: Founded in 1955, Bliss & Nyitray, Inc. has provided a full range of high-quality, creative Structural Engineering
and Inspection Services of recognized high quality to a variety of private and governmental clients throughout the Eastern United
States and the Caribbean. The firm takes pride in the high quality of work, spirit of cooperation and professionalism that prevails
among its staff. They treat all employees fairly and with respect for their individual capabilities. They continually upgrade staff skills,
utilize the latest in technological advances and remain current on building codes by actively participating in their formation.
All qualified applicants will receive consideration for employment without regard to the individual's race, color, sex, national origin,
religion, age, disability, genetic information, status as a military veteran or any other characteristic protected by applicable law.
Respond to this ad:
Bliss & Nyitray Engineers
Paul Zilio
P-Zilio@bniengineers.com