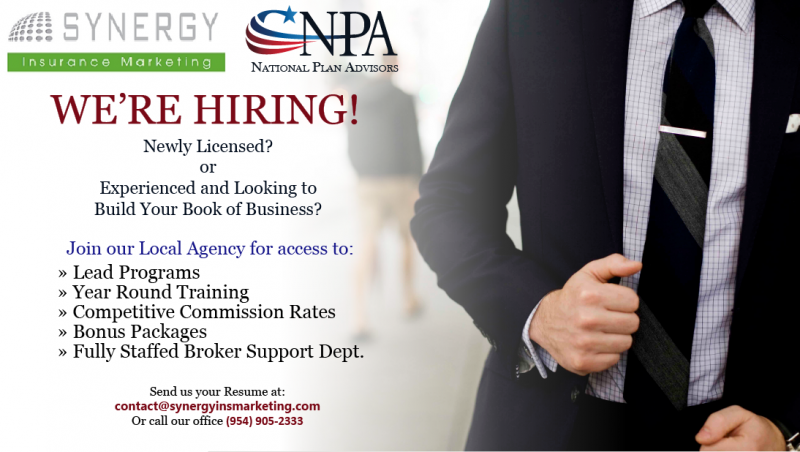 Synergy Insurance Marketing, LLC is a National Marketing Organization (NMO) conveniently located in the heart of Broward County.
With an agent base of over 1700+ across the nation, we are always looking to contract motivated and empowered health agents in the Palm Beach, Broward, and Miami-Dade Counties! We sell products in every major industry and have affiliations with all of the major carriers; ACA, Medicare Supplements, Life, Individual Health, etc.
Whether you're brand new to the industry or have ample experience, we empower our agents and help guide their careers to the maximum potential. We have several opportunities that vary from joining our in-house staff to working as an independent agent. We can teach you and provide you with all you need to know about the industry; all you need is the desire to succeed, learn, and grow!
At a glance, Synergy Insurance can provide you with:
» Affiliation with Major Carriers
» Outstanding Earning Potential
» At-Home, In-Field, or In-Office Employment Opportunities Year Round
» Access to Leads
» A Fully Staffed Broker Support Department
» Training Programs
» Bonus Packages
Come join our professional team and point your insurance career in the right direction!!
Email Us now for more information:
contact@synergyinsmarketing.com
Or Give Us a Call at (954) 905-2333.
Respond to this ad:
Synergy Insurance Marketing
Francheska
contact@synergyinsmarketing.com