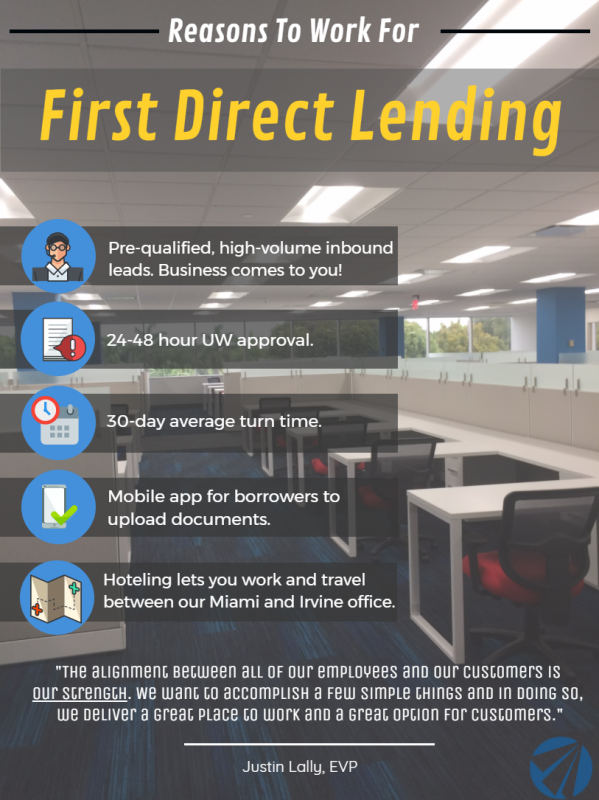 FDL Loan Officer Sales Trainees will receive training on every aspect of the Mortgage Industry to set them up on a path for success as a Licensed Mortgage Loan Officer.
Loan Officer's Day-to-Day:
Answer inbound calls and identify customers' financial needs.
Manage a pipeline of customers.
Deliver exceptional service to customers across the country.
Interact with co-workers in a professional manner.
Loan Officer Sales Trainee:
1 year telephone sales or commissioned sales experience or a Bachelor's degree in relevant field preferred.
Effectively communicate with customers across the country through email and over the phone
Must have a strong drive to succeed and be a top performer.
Ability to thrive in a team environment as well as independently achieve company sales goals.
Proficient with Microsoft Office and the ability to quickly learn new technologies.
Company Highlights:
FDL Hoteling: gives you the opportunity to work and travel to our corporate office in Orange County, CA or Salt Lake City, UT office.
FDL Perks: Top performers dinners, catered meals, team events, HH, sales contests, etc.
Extensive benefits package offered: PTO, VTO, Medical, Dental and Vision, 401K, Life Insurance, etc.
Paid State Licensing and CE.
Respond to this ad:
First Direct Lending
Leiren Parker
leiren.parker@firstdirectlending.com