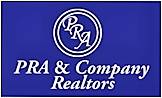 Seeking Licensed Real Estate Agent
Offices located in: Pompano Beach | Downtown Fort Lauderdale | West Palm Beach | Orlando
Duties Include:
Working directly with buyers to show properties, draft contracts, present offers, schedule transaction tracking, and close sales. Full training provided!
Ideal Candidate will receive the following:
-Developing the creative mind
-Processing and Prospecting
-Phone skills
-Customized** Training
-Coaching
-Compelling Presentations
-5 Steps to the Sale
-Lease to Purchase Specialists Training
Training is provided by PRA Top Producer Systems (TPS) – www.pratopproducer.com
Sign on BONUS!!!
Call PRA and Company Realtors today. Your development is GUARANTEED!
754-444-0853
Respond to this ad:
Pra & Company Realtors
Paul
paul@praandrealtors.com