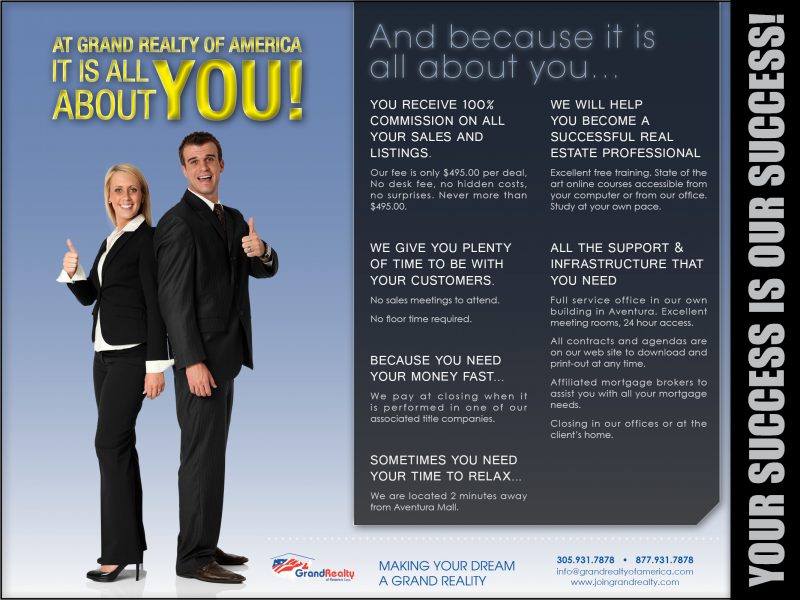 Your success is our success. There are many keys to building a successful career in Real Estate and at Grand Realty our goal is to give them to you and put you in the drivers seat. Build YOUR career on YOUR terms and get the financial security you are looking for.
We focus on:
Career development
Marketing & Branding
Education
Office support
Competitive Commission agreements
Technology platforms
With our weekly onsite training you get the opportunity to learn from Real Estate coaches that have been there before. You get an early look at what to expect so that when you reach the opportunity you are prepared for it. All the while you are building your brand and your business pipeline. Discover more of what we are all about on our Social Network feeds on facebook, instagram, or twitter with our handle @joingrandrealty and finds us on LinkedIn at Grand Realty of America. If you have questions then take advantage of the upcoming Gold Coast career fair. We will have a booth there and will be answering all your questions.
Business Inquiries or to set up a personalized appointment contact:
Tomas Funes
305-466-2424
info@joingrandrealty.com
www.joingrandrealty.com
Respond to this ad:
Grand Realty Of America
Tomas Funes
info@joingrandrealty.com