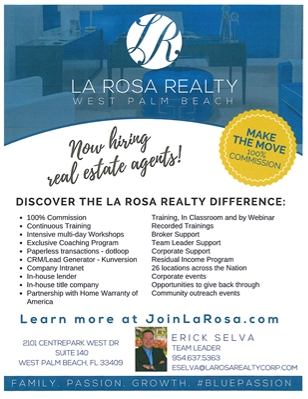 I am excited about the opportunity to share with you the La Rosa Realty difference. According to the National Realtors Association (NAR), La Rosa Realty is ranked as one of the Top 75 residential Real Estate firms in the United States.
Our goal as a leader in the Real Estate industry has been to go beyond the expected; to go against the industry's Broker-centric model; to go above and beyond the Standards of Excellence.
As a 100% commission-based company, we recognize the importance of the Agent through education, training, coaching and achievement recognition. This is why; we are the fastest growing privately owned Real Estate company in Florida; surpassing franchised models in agent training and services.
We currently have over 25 branches throughout Florida, New York, California, Georgia and South Carolina. Each of our branches has a Team Leader who is there to support you in your real estate journey and are passionate about your success. We always have a branch near you!
Our intense training takes place both at our Corporate Office as well as our branch locations throughout the Nation. Our technology partners also offer weekly webinar training so that our Agents can learn when it is convenient for them.
We partner with some of the best companies in the real estate industry. Each La Rosa Realty Agent has access to Dotloop Premium for transaction management. Also, each Agent receives their own KvCORE account and a company intranet, both are included in the $50 monthly dues and do not require any extra cost to the agent.
In closing, it will be my honor to share more information with you about La Rosa Realty. I invite you to call me directly, so we can discuss how can we help you achieve your dreams and aspirations as a professional real estate agent. I look forward to welcoming you and showing you everything that La Rosa Realty has to offer.
Respond to this ad:
La Rosa Realty
Erick Selva, Ma, Pa, Realtor – Team Leader
eselva@larosarealtycorp.com