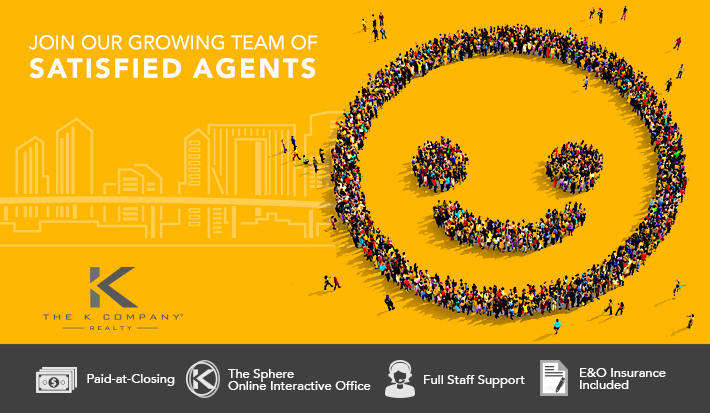 This is a big decision – do your homework! Read Independent Contractors Agreements. Know what your fees and split will be. Then research us…a 1,000 Real Estate Agents can't be wrong.
We are The K Company Realty® – the fastest-growing Real Estate Brokerage in Florida (Inc. 500 Rankings 2015, 2016) and tops in the nation. We are a full-service brokerage with a unique business model that puts REALTORS® first with 100% commission payouts-at-closing and charges $79 month for affiliation and $79 per transaction. There are no ancillary fees: broker assistance fees, technology fees, compliance fees, or E&O insurance fees (included). Join in 3 online steps in minutes and get started today! Our online Agent Dashboard & Resource Center, The Sphere, is the best platform in the industry and allows complete freedom.
We teach a new REALTOR® "Kick Start Program" in our K University Classroom (accredited classes available too) or via live stream. These 4 modules include major, practical topics like "Setting up your Business Properly", "Reading MLS and Writing a Contract", "Listing Presentations Basics" and finally, "Advertising and Marketing – What's Working Now?!". This is based on real-world experience integrating the latest intel.
We also offer a Real Estate Marketing package that includes a hosted, personalized, IDX-integrated website with drip email and CRM programs (All-in-One Digital Marketing Package). You can customize you own personal website to maximize your branding and online advertising.
Know at The K Company, we work for you, not the other way around. We offer all the benefits of a big-box brokerage with benefits of the best technology and digital tools to help you earn and conduct transactions. Why would you start off your career paying someone 30-50% of your commission, desk fees and mandatory floor times not benefiting you?
Please come in to one of our offices to meet with us, call, or review our website @ www.jointhekcompany.com for more! Also feel free to contact me directly @ 954.545.5583 or jbeard@thekcorealty.com and we can schedule a tour and private interview.
Respond to this ad:
The K Company Realty
Jeremy Beard
jbeard@thekcorealty.com