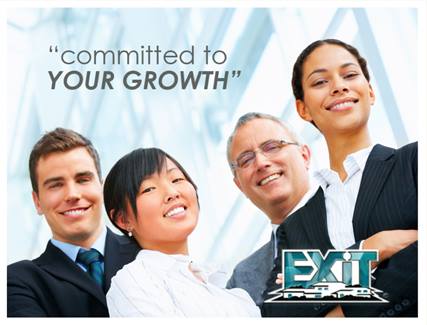 Company Overview:
Exit Realty is a 20 year old company with over 30 thousand agents company wide. We are the fastest growing real estate company in the history of real estate, and the #1 real estate franchise brand in the world. We have offices in every state in the USA, and throughout Canada.
Job brief:
We at "EXIT REALTY PREMIER" in LAKE WORTH & WELLINGTON are looking to partner with professional real estate agent's to be an intermediary between sellers and buyers. Real estate agent responsibilities include marketing listings and providing guidance to buyers and sellers. This is a great opportunity for someone looking to grow their career in real estate.
CALL PETER MANNARINO FOR A CONFIDENTIAL INTERVIEW TO LEARN MORE ABOUT THE OPPORTUNTIES AT "EXIT REALTY". 561 213-4527 (Direct line)
Responsibilities:
• Provide guidance and assist sellers and buyers in marketing and purchasing property for the right price under the best terms
• Determine clients' needs and financials abilities to propose solutions that suit them
• Intermediate negotiation processes, consult clients on market conditions, prices, mortgages, legal requirements and related matters, ensuring a fair and honest dealing
• Perform comparative market analysis to estimate properties' value
• Display and market real property to possible buyers
• Prepare necessary paperwork (contracts, leases, deeds, closing statements etc)
• Manage property auctions or exchanges
• Maintain and update listings of available properties
• Cooperate with appraisers, escrow companies, lenders and home inspectors
• Develop networks and cooperate with attorneys, mortgage lenders and contractors
• Promote sales through advertisements, open houses and listing services
• Remain knowledgeable about real estate markets and best practices
CALL PETER MANNARINO FOR A CONFIDENTIAL INTERVIEW TO LEARN MORE ABOUT THE OPPORTUNTIES AT "EXIT REALTY". 561 213-4527 (Direct line)
Requirements:
• Proven working experience as a real estate agent or real estate salesperson
• Proven track of successful sales record
• Ability to work independently combined with excellent interpersonal skills
• Strong sales, negotiation and communication skills
• Pleasant and trustworthy
• MS Office familiarity
• Florida real estate agent's license (Mandatory)
• WE HAVE ZERO MONTHLY FEE'S
• WE PROVIDE FREE DAILY HIGH QUAILTY BUYER & SELLER LEADS
• WE OFFER VERY PRODUCTIVE "FLOOR-TIME" — OFFICES IN VERY HIGH TRAFFIC RETAIL SHOPPING CENTERS.
• WE HAVE WORLD-CLASS IN-HOUSE TRAINING ON A DAILY BASIS (FREE)
• WE OFFER A FULL IN-HOUSE SUPPORT STAFF
• WE HAVE CUTTING EDGE REAL ESTATE TECHNOLOGY
• EXIT IS AN "AGENT CENTRIC" ORGANIZATION
• NON-COMPETING BROKER
• "IN-HOUSE" REAL ESTATE SCHOOL (REIMBURSEMENT PROGRAM AVAILABLE)
• BRAND NAME RECOIGITION (GLOBAL)
• MENTOR PROGRAM
• 10% RESIDUAL INCOME ON TOP OF YOUR REGULAR REAL ESTATE COMMISSIONS. (SPONSORING PROGRAM).
To learn more about this amazing opportunity, please visit www.exittoprecruiter.com to view several short videos regarding all we offer.
CALL PETER MANNARINO FOR A CONFIDENTIAL INTERVIEW TO LEARN MORE ABOUT THE OPPORTUNTIES AT "EXIT REALTY". 561 213-4527 (Direct line)
Respond to this ad:
Exit Realty
Peter Mannarino
pmannarino@exitrealtypalmbeach.net