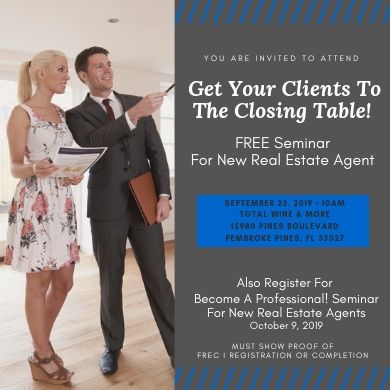 TO REGISTER CALL (786) 584-7584 or email Marilyn@AbellaRealEstate.com
FREE Seminar specifically for Pre-License and Newly Licensed Real Estate Agents . Talk one-on-one with key third party vendors.
About this Event
Congratulations! The world now sees you as a "Professional" Real Estate Agent…. but, are you? Prepare for your new career by making the right connections and selecting the perfect brokerage who will take time to truly mentor you!
Join us for a FREE Seminar by Invitation Only!
Learn what it takes to get your clients to the closing table; the importance of working closely with third party vendors; and what you should be looking for before you sign up with a Real Estate office!
AGENDA:
Registration (10:20 am – 10:40 am ) Coffee & Donuts
Seminar (10:40 am – 12:00 pm)
LENDING: Cristina Acosta – Fairway Independent Mortgage
TITLE: Suhem Nazal – Banker's Title & Escrow
LEGAL: Anna Fernandez, Esq – Legal Lotus, PA
REAL ESTATE: Alexis Milord, Realtor – Abella Real Estate
HOST: Marilyn Escobar, Broker – Abella Real Estate
Lunch (12:00 – 12:30) Q&A
Wine Tasting Class (12:30 pm – 1:00 pm)
If you have questions or would like to invite a colleague, please reach out to Marilyn Escobar at (786) 584-7584.
We look forward to seeing you there!
——————————–
*** ALSO REGISTER FOR OCTOBER 9, 2019 SEMINAR BY CALLING (786) 584-7584
Topics
SURVEY: Madelin Estrella – Prisma Land Surveyors
HOME ISNPECTION: Tobias Condill – Home Star Inspections
TAXES: Orlando Rodriguez – Your Tax Solution
REAL ESTATE: Alexis Milord, Realtor – Abella Real Estate
HOST: Marilyn Escobar, Broker – Abella Real Estate
Respond to this ad:
Abella Real Estate, Llc
Marilyn Escobar
Marilyn@AbellaRealEstate.com