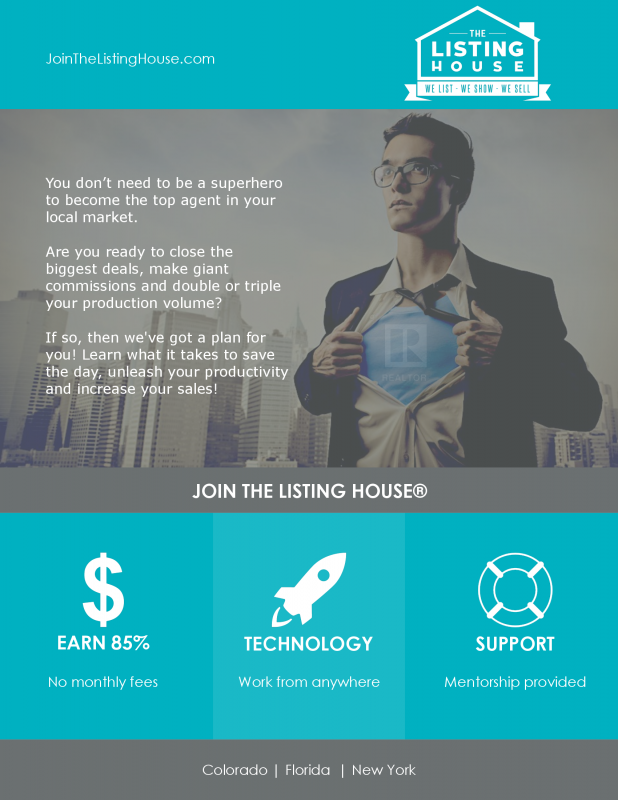 http://www.jointhelistinghouse.com
We have qualified customers for you to work with right now who are ready to buy, sell, and rent. You should be able to earn a commission check your first week with The Listing House®!
We don't charge you any monthly, yearly, or transaction fees, ever!  We make money when you make money.
Our technology will have you closing deals the modern way using our custom developed back office, available exclusively to our agents. Fillable contracts with e-sign functionality, instant property reports and a powerful transaction management system put our agents ahead by making them 100% paperless and mobile. Your clients will be very impressed with how convenient and stress-free you make the real estate process for them.
Guiding your clients through a digital and easy-to-understand transaction will not only impress them but it will also build trust and enhance your client relationships. They'll see you as the cutting-edge real estate professional of the future.
We provide individual training and one-on-one mentorship for each agent. All of our programs are easy to learn and a pleasure to use.
Respond to this ad:
The Listing House®
Leigh Evans
careers@thelistinghouse.com