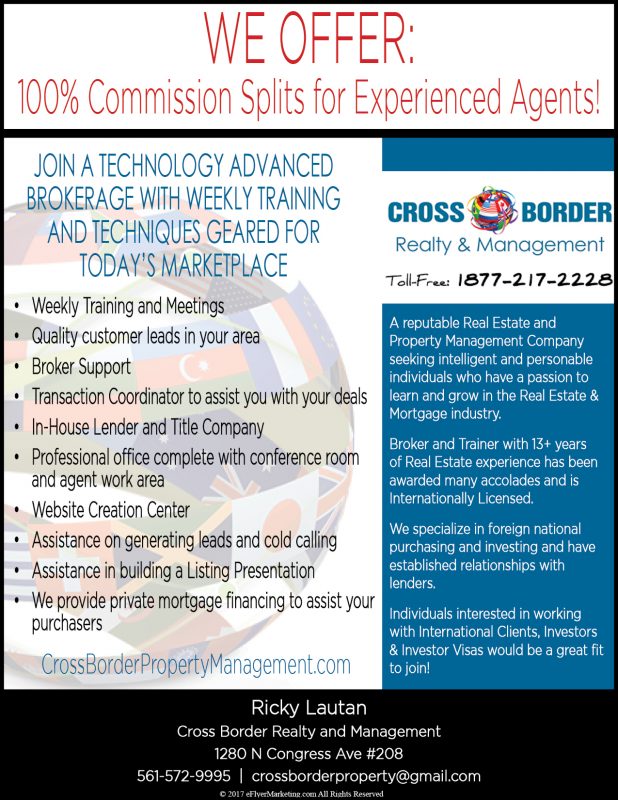 We are looking for passionate motivated realtors to join our team that are willing to learn and make a successful career with unlimited income potential. We want you to help clients fulfill their dream of home ownership and show clients and investors how to build wealth in real estate. If you are focused, detail-oriented and results- driven you will fit right in!
Our mission is to deliver the absolute best brokerage services to buyers and sellers. We promote market and specialize in foreign purchaser whether it's a Vacation home or a sound investment property Cross Border Realty & Management
IN HOUSE LEADS AND LEAD SHARE PROGRAM!!
Get Started "30 Days to success " Assisting you in developing a personalized CMA, Buyers Presentation and Branding yourself!
Joint Venture Relationships with Title Companies
We have Established Relationships with lenders
Knowledgeable Management Educated in dealing with Foreign Nationals
Managing Broker and Trainer is Internationally Licensed Recognized Individual and has been Awarded may accolades in the Real Estate Field 13+ Years of Real Estate experience
Individuals interested in working with International Clients, Investors & Investor Visa would be a great fit to join
Respond to this ad:
Cross Border Realty & Management
Ricky Lautan
crossborderproperty@gmail.com