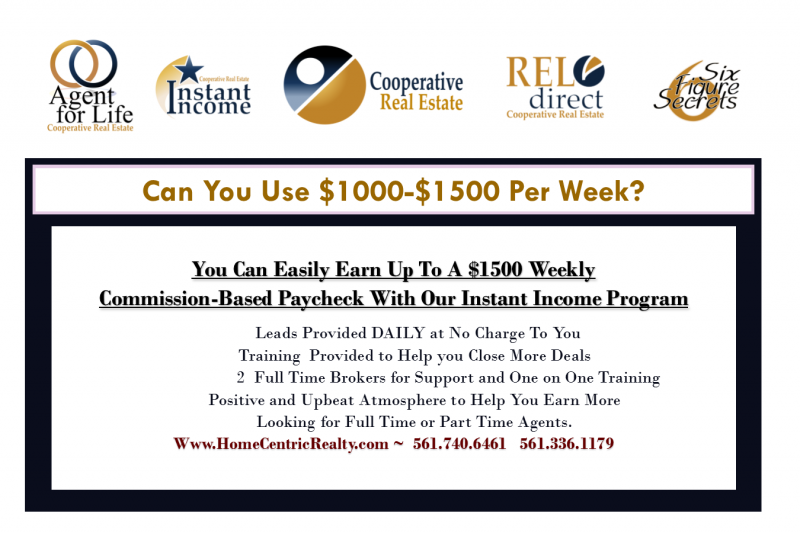 The Real Estate industry has been turned on its head with Cooperative Real Estate's movement to Un~Franchise residential Real Estate!
Most of us are just so happy to be free from expensive franchise fees and Learn More ~ Earn More ~ Keep More BUT…
Today I get to share with you one of the most innovative programs that Cooperative Real Estate brings to the table for our Realtors.
Instant Income solves many of the problems faced by new and emerging associates in our industry.
Do you realize that 3 out of 4 Real Estate Agents "STARVE OUT" of the business during their first two years?
Too many Real Estate Agents are "part time" and working "two jobs" as they transition into the lucrative Real Estate business.
We believe that a Real Estate Agent loses precious credibility and professional opportunity when they put on a Home Depot Apron, Bar Tend or Deliver Pizza's.
Yet there are Ten's of thousands of Real Estate Agents working for National Franchise Brands that work Jobs outside of the industry to make ends meet.
What if your Broker managed a proprietary system whereby you could earn $500-1500 per week INSIDE THE REAL ESTATE INDUSTRY?
The Instant Income™ Program at Cooperative Real Estate USA could be the difference that you are looking for.
The proprietary Instant Income Program gives you the power and professional opportunity to Learn More ~ Earn More ~ Keep More while working inside the Real Estate Business.
Respond to this ad:
Cooperative Real Estate Home Centric
Andrew Rolleri Jr
arolleri.bdr@gmail.com