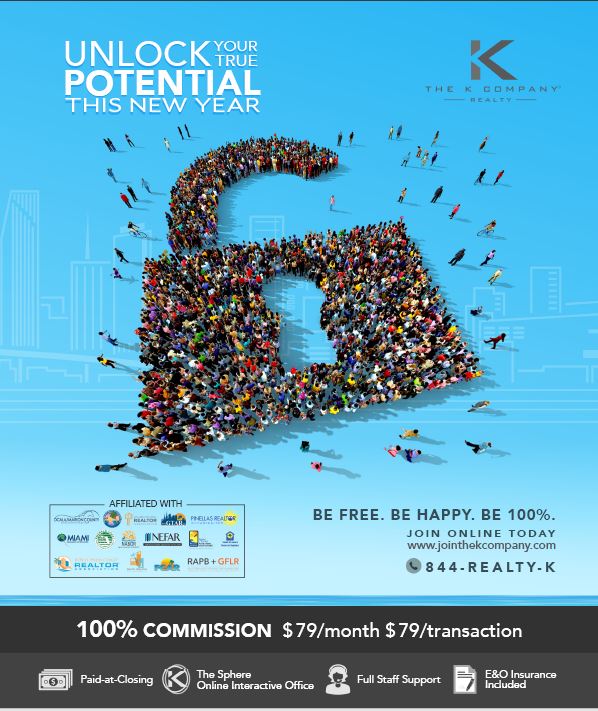 ….and they never go hungry again. Brokers love to promise leads. But do they deliver on exclusive leads or, is it more likely they are trickled down from their Top Producers?
We teach Agents HOW to market and get their own leads for a sustainable career. Once you build the brand around yourself, you can find the best Brokerage that provides what you need for the best "price". Free market ideology – it's what America was built on!
No longer do you need to lean on a Broker logo for business. No more do you need to pay 30-50% of your hard earned deals. We empower the agent with the most commission of any brokerage in Florida. The more we put back in your pocket, the more you can generate you own leads with you own branding.
We are The K Company Realty® – we are one of the fastest-growing Real Estate Brokerage in the nation (Top 20 per Inc. 500 Rankings 2015, 2016, 2017) and based in South Florida. We are a full-service brokerage with a unique business model that puts REALTORS® first with 100% commission payouts-at-closing and charge $79 month for affiliation and $79 per transaction and not only do we put the most money back in your pocket, we teach you how to be successful and market yourself – after all, clients will use you because of your services, not your Brokers.
Know at The K Company, we work for you, not the other way around. We are also major contributors to preserving the role of REALTORs and the industry (do some research, Google us!). We offer all the benefits of a big-box brokerage with benefits of the best technology and digital tools to help you earn and conduct transactions. Why would you start off your career paying someone 30-50% of your commission, desk fees and mandatory floor times not benefiting you?
We teach a new REALTOR® "Kick Start Program" in our K University Classroom (accredited classes available too) or via live stream. These 4 modules include major, practical topics like "Setting up your Business Properly", "Reading MLS and Writing a Contract", "Listing Presentations Basics" and finally, "Advertising and Marketing – What's Working Now?!". This is based on real-world experience integrating the latest intel.
There are no ancillary fees: broker assistance fees, technology fees, compliance fees, or E&O insurance fees (included). Join online minutes and get started today! Our online Agent Dashboard & Resource Center, The Sphere, is the best platform in the industry and allows complete freedom.
We also offer a Real Estate Marketing package that includes a hosted, personalized, IDX-integrated website with drip email and CRM programs (All-in-One Digital Marketing Package). You can customize you own personal website to maximize your branding and online advertising.
Please come in to one of our offices to meet with us, call, or review our website @ www.jointhekcompany.com for more! Also feel free to contact me directly @ 954.545.5583 or jbeard@thekcorealty.com and we can schedule a tour and private interview.
Respond to this ad:
The K Company Realty
Jeremy Beard
jbeard@thekcorealty.com