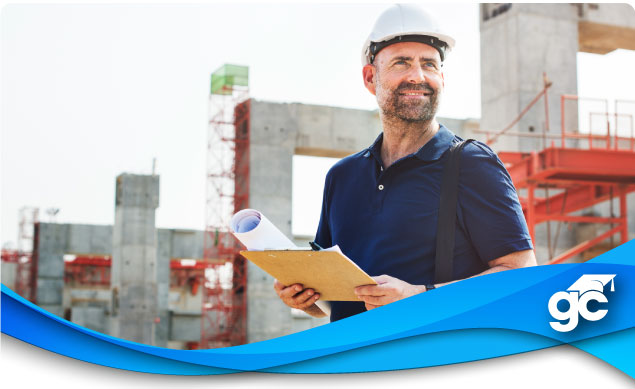 Become a Florida Licensed Building Contractor
Choose from either classroom or online options.
The Gold Coast School of Construction is the leader in construction education for both Registered County and State Certified contractors in the state of Florida. Students enroll with Gold Coast because they have one goal, to pass the state exam and become a licensed Building Contractor! Our curriculum, methods, and team of experienced instructors are dedicated to helping every student achieve that goal.
If you have any questions about the Building Contractor program, please contact our helpful Career Counselors at 1-800-732-9140.
The Gold Coast curriculum is an in depth review of all state examination topics giving you the knowledge and confidence needed to get your license. Our materials are continuously updated to reflect exam and code changes, and are direct, yet simple to understand. Our instructors are licensed practicing professionals including Contractors, Architects, Engineers, Building Inspectors, and OSHA trainers who care about your success.
We understand that the details of how to get your license Building Contractor's license can be overwhelming. The information on the Course Schedule, Online Course, and Requirements tabs will help answer many of your questions, but feel free to contact our helpful Career Counselors at 1-800-732-9140 to discuss this over the phone.
Classroom Building Contractor Exam Course: $799
To register for the Classroom Based Building Contractor Exam Prep Program, use the "Schedule Your Course" box above, click on the "Register Now" button next to the course offering below, or call our helpful Career Counselors at 1-800-732-9140.
Your Classroom Based Contractor Exam Prep Program will be divided into 3 parts, all of which are included in your tuition.
Part I:
Comprehensive study guides complete with audio presentations available online, including smartphones and tablets
Our exclusive module workbook that is topic specific with self contained learning segments
Exclusive exhibits
Multiple practice exams and optional online exam simulators
Part II:
Classroom instruction one night a week (Offered in both English and espanol). Bring your questions and we will show you how to work through to the answer together.

Class Locations and Schedule: (7:00pm-9:30pm)
Tuesdays: Doral
Wednesdays: Lantana and North Miami
Thursdays: Broward and Doral (espanol)
Part III:
Intensive Cram Sessions one weekend each month (Cram's are in-depth reviews of exam style questions and scenarios and are designed to drive home the key topics needed to be successful on the state exam).
Tuition Information:
Your tuition is valid for 1 year. Enrolled students can repeat these crams at no extra charge as often as necessary within your tuition period.
Tuition does not include the state required reference books and tab sets. Contact a Career Counselor at 1-800-732-9140 for complete details & pricing.
Start your course anytime! Classes are held weekly. 
Simply register for any of the locations below and you can begin immediately.  Your tuition is valid for 1 year giving you access to unlimited classes and plenty of time to prepare for your license exam.
Class Dates
01/01 - 12/24
Class Format
Tuesdays 7:00pm - 9:30pm
Class Dates
01/01 - 12/25
Class Format
Wednesdays 7:00pm - 9:30pm
Class Dates
01/01 - 12/26
Location
South Dade (Doral)
Class Format
Tuesdays &/or Thursdays 7:00pm - 9:30pm
Class Dates
01/01 - 12/26
Location
Tamarac (Broward)
Class Format
Thursdays 7:00pm - 9:30pm
Class Dates
01/01 - 12/25
Location
West Palm Beach (Lantana)
Class Format
Wednesdays 7:00pm - 9:30pm
Class Dates
February 2019
Class Dates
02/01 - 01/28
Class Format
Tuesdays 7:00pm - 9:30pm
Class Dates
02/01 - 01/29
Class Format
Wednesdays 7:00pm - 9:30pm
Class Dates
02/01 - 01/30
Location
South Dade (Doral)
Class Format
Tuesdays &/or Thursdays 7:00pm - 9:30pm
Class Dates
02/01 - 01/30
Location
Tamarac (Broward)
Class Format
Thursdays 7:00pm - 9:30pm
Class Dates
02/01 - 01/29
Location
West Palm Beach (Lantana)
Class Format
Wednesdays 7:00pm - 9:30pm
Class Dates
03/01 - 02/25
Class Format
Tuesdays 7:00pm - 9:30pm
Class Dates
03/01 - 02/26
Class Format
Wednesdays 7:00pm - 9:30pm
Class Dates
03/01 - 02/27
Location
South Dade (Doral)
Class Format
Tuesdays &/or Thursdays 7:00pm - 9:30pm
Class Dates
03/01 - 02/27
Location
Tamarac (Broward)
Class Format
Thursdays 7:00pm - 9:30pm
Class Dates
03/01 - 02/26
Location
West Palm Beach (Lantana)
Class Format
Wednesdays 7:00pm - 9:30pm
Class Dates
04/01 - 03/24
Class Format
Tuesdays 7:00pm - 9:30pm
Class Dates
04/01 - 03/25
Class Format
Wednesdays 7:00pm - 9:30pm
Class Dates
04/01 - 03/26
Location
South Dade (Doral)
Class Format
Tuesdays &/or Thursdays 7:00pm - 9:30pm
Class Dates
04/01 - 03/26
Location
Tamarac (Broward)
Class Format
Thursdays 7:00pm - 9:30pm
Class Dates
04/01 - 03/25
Location
West Palm Beach (Lantana)
Class Format
Wednesdays 7:00pm - 9:30pm
Class Dates
05/01 - 04/28
Class Format
Tuesdays 7:00pm - 9:30pm
Class Dates
05/01 - 04/22
Class Format
Wednesdays 7:00pm - 9:30pm
Class Dates
05/01 - 04/28
Location
South Dade (Doral)
Class Format
Tuesdays &/or Thursdays 7:00pm - 9:30pm
Class Dates
05/01 - 04/23
Location
Tamarac (Broward)
Class Format
Thursdays 7:00pm - 9:30pm
Class Dates
05/01 - 04/22
Location
West Palm Beach (Lantana)
Class Format
Wednesdays 7:00pm - 9:30pm
Class Dates
06/01 - 05/26
Class Format
Tuesdays 7:00pm - 9:30pm
Class Dates
06/01 - 05/27
Class Format
Wednesdays 7:00pm - 9:30pm
Class Dates
06/01 - 05/28
Location
South Dade (Doral)
Class Format
Tuesdays &/or Thursdays 7:00pm - 9:30pm
Class Dates
06/01 - 05/28
Location
Tamarac (Broward)
Class Format
Thursdays 7:00pm - 9:30pm
Class Dates
06/01 - 05/27
Location
West Palm Beach (Lantana)
Class Format
Wednesdays 7:00pm - 9:30pm
Class Dates
07/01 - 06/23
Class Format
Tuesdays 7:00pm - 9:30pm
Class Dates
07/01 - 06/24
Class Format
Wednesdays 7:00pm - 9:30pm
Class Dates
07/01 - 06/25
Location
South Dade (Doral)
Class Format
Tuesdays &/or Thursdays 7:00pm - 9:30pm
Class Dates
07/01 - 06/25
Location
Tamarac (Broward)
Class Format
Thursdays 7:00pm - 9:30pm
Class Dates
07/01 - 06/24
Location
West Palm Beach (Lantana)
Class Format
Wednesdays 7:00pm - 9:30pm
Class Dates
08/01 - 07/28
Class Format
Tuesdays 7:00pm - 9:30pm
Class Dates
08/01 - 07/29
Class Format
Wednesdays 7:00pm - 9:30pm
Class Dates
08/01 - 07/28
Location
South Dade (Doral)
Class Format
Tuesdays &/or Thursdays 7:00pm - 9:30pm
Class Dates
08/01 - 07/23
Location
Tamarac (Broward)
Class Format
Thursdays 7:00pm - 9:30pm
Class Dates
08/01 - 07/29
Location
West Palm Beach (Lantana)
Class Format
Wednesdays 7:00pm - 9:30pm
Class Dates
September 2019
Class Dates
09/01 - 08/25
Class Format
Tuesdays 7:00pm - 9:30pm
Class Dates
09/01 - 08/26
Class Format
Wednesdays 7:00pm - 9:30pm
Class Dates
09/01 - 08/27
Location
South Dade (Doral)
Class Format
Tuesdays &/or Thursdays 7:00pm - 9:30pm
Class Dates
09/01 - 08/27
Location
Tamarac (Broward)
Class Format
Thursdays 7:00pm - 9:30pm
Class Dates
09/01 - 08/26
Location
West Palm Beach (Lantana)
Class Format
Wednesdays 7:00pm - 9:30pm
Class Dates
10/01 - 09/22
Class Format
Tuesdays 7:00pm - 9:30pm
Class Dates
10/01 - 09/23
Class Format
Wednesdays 7:00pm - 9:30pm
Class Dates
10/01 - 09/24
Location
South Dade (Doral)
Class Format
Tuesdays &/or Thursdays 7:00pm - 9:30pm
Class Dates
10/01 - 09/24
Location
Tamarac (Broward)
Class Format
Thursdays 7:00pm - 9:30pm
Class Dates
10/01 - 09/23
Location
West Palm Beach (Lantana)
Class Format
Wednesdays 7:00pm - 9:30pm
Class Dates
November 2019
Class Dates
11/01 - 10/27
Class Format
Tuesdays 7:00pm - 9:30pm
Class Dates
11/01 - 10/28
Class Format
Wednesdays 7:00pm - 9:30pm
Class Dates
11/01 - 10/29
Location
South Dade (Doral)
Class Format
Tuesdays &/or Thursdays 7:00pm - 9:30pm
Class Dates
11/01 - 10/29
Location
Tamarac (Broward)
Class Format
Thursdays 7:00pm - 9:30pm
Class Dates
11/01 - 10/28
Location
West Palm Beach (Lantana)
Class Format
Wednesdays 7:00pm - 9:30pm