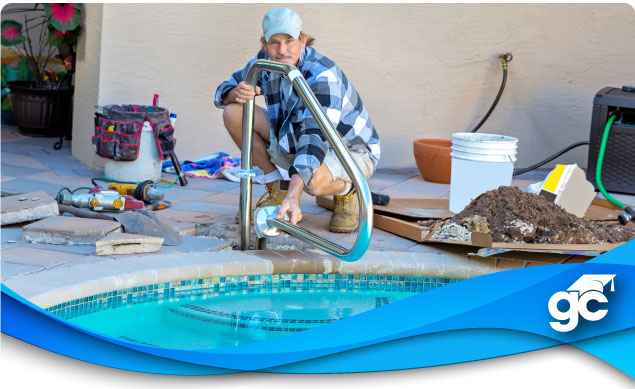 Florida Swimming Pool and Spa Contractor License Program
Get your license today!
Below you will find complete details about becoming a licensed Florida Swimming Pool and Spa contractor.  We understand that the details about how to get started can be difficult.  If you have any questions, please contact our helpful Career Counselors at 1-800-732-9140.  We are happy to assist.
Swimming Pool & Spa Contractor Exam Prep Program:
The Gold Coast School of Construction is the leader in construction education for both Registered County and State Certified contractors. Students enroll with Gold Coast because they have one goal, to pass the state exam! Our curriculum, methods, and team of experienced instructors are dedicated to help every student achieve that goal. We understand that anyone can claim to be the best school in Florida, but we can prove it.
The Gold Coast curriculum is an in depth review of all state examinations topics. Our materials are continuously updated to reflect exam and code changes, and are direct, yet simple to understand. Our instructors are licensed practicing professionals including Contractors, Architects, Engineers, Building Inspectors, and OSHA trainers who care about your success.
Gold Coast Pool/Spa Contractor Program is the leader in education for the following Pool Certifications:
State Certified Pool Contractor  (Residential or Commercial)
State Certified Pool Service Contractor (Residential or Commercial)
Gold Coasts Exam Prep program is offered in two formats, the Full Service Contractor Exam Prep and our Basic Contractor Exam Prep. These prep courses are designed for contractors who are serious about passing their exams and getting started with growing their business.
Full Service Pool Contractor Exam Prep Program – $799
This is a classroom based exam prep program.  Enrolled student can attend unlimited evening classes and weekend exam reviews sessions during their 1 year tuition period.
Part I:
Comprehensive study guides complete with audio/visual presentations
Our exclusive study manual workbook that is topic specific with self contained learning segments
Exclusive exhibits
Multiple practice exams and optional online exam simulator
Part II:
Classroom instruction one night a week from 7:00pm-9:30pm.

The first two weeks of the month will be covering Business and Finance and is taught at all Gold Coast locations
The last two weeks of the month will cover Pool Trade Knowledge and is only offered on Monday nights at the Broward campus.
Bring your questions and we will show you how to work through to the answers together.  Your tuition is valid for one year allowing you to take as many classes as you would like during this period.
To register online, use the drop down menu in the "Schedule Your Course" box above, click on the "Register Now" button next to the course offering below, or contact our helpful Career Counselors at 1-800-732-9140.  We are happy to assist.
Tuition Information:
Full Service Exam Prep Program: (Includes class tutorials and Cram Classes) – $799


*Tuition does not include the state required reference books and tab sets.
To purchase your complete set of course textbooks and tabs: View Online Bookstore!
Contact our helpful Career Counselors at 1-800-732-9140 if you have any questions. We are happy to assist.
Class Locations and Basic Schedule:
Pool Contractor Business & Finance:
1st & 2nd week of every month: 7:00pm – 9:30pm

Tuesday – Doral & Boca
Wednesday – North Miami
Wednesday – Lantana
Thursday – Broward
Pool Contractor Trade Knowledge:
3rd & 4th weeks of the month: 6:30pm – 9:00pm
Start your course anytime! Classes are held weekly.
Simply register for the month in which you plan to start and your tuition will be valid for 1 year.  There is no limit to the number of class sessions that you can attend.
Wednesdays 7:00pm - 9:30pm
Thursdays 7:00pm - 9:30pm
West Palm Beach (Lantana)
Wednesdays 7:00pm - 9:30pm