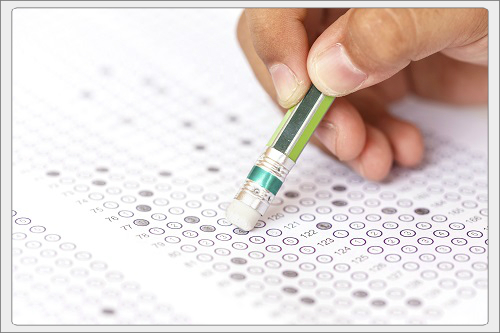 Real estate students often ask "what is the pass rate on the Florida real estate exam?"  The answer is normally "it depends."   It depends on a few factors.  First, it depends on whether students are inquiring about the end of course exam, or the state exam.   Pass rates on the end of course exam are generally between 70% and 90%.   There are a lot of factors that go into the pass rate including the education level of the class, the percentage of the class that speaks English as a second language, and how hard the students work.  Generally speaking the pass rate in Palm Beach County will be a little higher than in Dade County, simply because the education level tends to be a little higher, and the percentage of students who speak English as a first language is also higher.
The state of Florida Department of Business and Professional Regulation does not publish pass rates on the Florida Real Estate exams by school.  They publish overall pass rates for all students taking the state exam.   The pass rate for first time test takers on the sales associate exam hovers between 50-55%.   Students taking the broker exam tend to score a little higher, generally closer to a 60% average.   If a school is quoting an actual pass rate to you….run!  There is no way that you can verify what that rate actually is.  There is no way they can verify the pass rate, other than counting each student.  Any school that is able to do that generally has very few students, since students have two years to take the exam after passing the end of course exam.  Gold Coast helps tens of thousands of students per year and has become the number one school in Florida by helping our students succeed.
We always recommend that students focus on themselves and what they can do to pass the Florida real estate exam the first time, vs. focusing on how well or how poorly another group of students performed.
Here are some recommendations based on helping more than a million students since 1970.  
Gold Coast provides online homework questions for students. Students should complete the online homework as it will help them prepare for their end of course exam and state exam.
Students should set a goal of achieving a score of at least 85% on the end of course test. Our experience has shown that students will typically score about 10 points lower on the state exam.  Students who pass the end of course exam with less than 85% have not set themselves up to pass the first time.  If you don't score at least 85%, that's ok, just recognize that you're going to have to study harder to get to the level you need to be at.
Schedule the state exam approximately two to three weeks after completing the end of course exam.
Between completing the course and taking the state exam, plan on a lot of studying. At Gold Coast we give our full service students a 1001 Question and Answer book.  We recommend students complete these questions three times before attending a cram weekend review.  As you do the questions, treat them as an exam and do 100 at a time.  Go back and grade yourself.  The most important part is to look up any answers that you missed and learn why you missed them.
Attend the cram weekend review. At the review weekend instructors will review the material, review any areas that we've received recent feedback on from students taking the exam, and will answer any questions you may still have.
Take and pass the state exam.
Students who legitimately follow these steps generally pass the first time.  However, students who shortcut these steps don't always pass.  Some will, but some won't.   Generally speaking, the first time a student takes the state exam is their best opportunity to pass.   As students take the exam two, three, or four times, the pass rate tends to go down.  Don't fall into the trap of saying "I'm going to take the test and see how I do."  We strongly recommend adopting an attitude from the start of class that says "I'm in this to pass the first time and get my license, therefore I'm going to do what it takes to pass the first time!"
If you have any questions about getting started with your real estate career, we are standing by to assist.  Please contact our helpful Career Counselors at 1-800-732-9140 or visit us online.