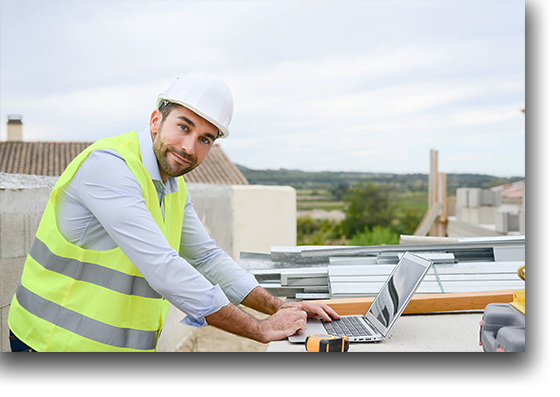 Become a Florida Licensed Contractor
The Gold Coast School of Construction is the leader in construction education for both Registered County and State Certified contractors in the state of Florida. Students enroll with Gold Coast because they have one goal, to pass the state exam and become a licensed General Contractor! Our curriculum, methods, and team of experienced instructors are dedicated to helping every student achieve that goal.
Complete details about our General Contractor online exam prep program can be found below.  Gold Coast also offers classroom based Construction courses. To learn more: Click Here! Please contact our helpful Career Counselors at 1-800-732-9140 for more information.  We are happy to assist.
Online Contractor Exam Course: $999   Register Now
Program Overview:
The online contractor exam prep course is designed to enable you to prepare to pass the General, Building, or Residential Contractor exam with the convenience of online learning. Through interactive modules containing audio instruction, we bring the classroom experience into your computer or tablet allowing you to study at your own pace. This course combines the best of classroom education with the flexibility of self paced online learning.
You will go through the material module-by-module gaining a mastery of how to navigate your state reference books, making passing your state contractor exam a breeze.
The course is loaded with hundreds of practice exam questions to help you evaluate your readiness and prepare you for success. These questions are constantly being updated based on student feedback on actual state exam topics.
Includes:
Online learning modules and practice exams designed to prepare you for your state exam
Live online weekly webinars with our instructors covering key topics

Mon-Thur 6:30pm-9:00pm

Fridays 4:00pm – 6:30pm

Tuesday & Thursday 6:30pm-9:00pm (SPANISH)

Live online weekend review courses

Held on scheduled Saturdays
Business & Finance

9:00am – 12:00pm

Trade Knowledge

 1:00pm – 4:00pm

Comprehensive study guides complete with workbooks, exhibits, and online modules focusing on key subject areas
---
Tuition Information: (Your tuition is valid for 1 year allowing plenty of time to complete your course)
Tuition does not include the state required reference books and tab sets. Contact a Career Counselor at 1-800-732-9140 for complete details & pricing.
To purchase your complete set of course textbook and tabs: View Online Bookstore
Contact our helpful Career Counselors at 1-800-732-9140 if you have any questions.  We are happy to assist.