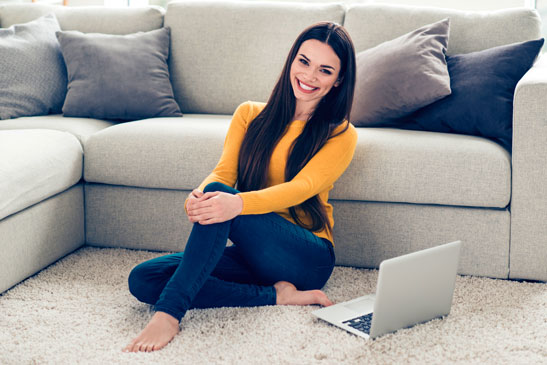 Get Your Florida Real Estate License with our New Livestream Course!

Enjoy our classroom experience from the comfort of home!

Gold Coast Schools new Livestream Courses allows you to take our class from anywhere with an internet connection.
Attend classes during your chosen schedule option and stay on track and structured.
Our highly experienced instructors will walk you through the course just like in our classroom.
Live chat allows you to ask questions and receive real time answers.
Livestream Sales Associate Course Benefits
Gold Coast Schools always strives to offer many benefits to our students that other schools simply don't. With our new live stream course, we are now able to offer another high- quality option to our students to help them achieve their career goals.
The 63-hour Livestream Sales Associate Course Includes:
Tuition Valid for 2 Years
This offers enrolled students plenty of attempts to complete their course. No retake fees, no transfer fees and no rescheduling fees. We are here to help you succeed.
Quality Materials Included
Our textbook materials are exclusive, copy-written and are included with your tuition. Your textbook also includes 1,001 practice questions to help prepare you for the state exam.
Cram Class Included
Our weekend 2 1/2-day CRAM review course designed to hone in on topics & questions that you will face on the state exam is included at no additional charge.
Live Experienced Instructors
Your instructor will teach the materials just like they would in class as you follow along with detailed slide shows.
Live Chat Feed
Just like in our classrooms, you will have the ability to ask questions in the live chat and have instructor moderators answer in real time.
Multiple Schedules
Live stream classes will follow the same structure as our classroom classes giving you the structure you need to stay on track.
Livestream Schedule

Tuition for this course is: 
$549
The 7-day class runs Monday through Sunday from 9:00am-6:00pm. The course is completed in one week.
The 4-week evening class runs Monday, Wednesday and Friday evenings from 6:30p-10:30p, for 4 weeks. The class also meets the last weekend, Saturday and Sunday from 9:00a-6:00p.
The 4-week morning class runs Monday, Wednesday and Friday mornings from 9:00a-1:00p, for 4 weeks. The class also meets the last weekend, Saturday and Sunday from 9:00a-6:00p.
Class Registration:
Click on the "Register Now" button next to the course offering below or contact our helpful Career Counselors at 1-800-732-9140.  We are happy to assist.
January 2021

01/18 - 02/11

LiveStream

4-week morning (Mon-Thurs) 9am-1pm

01/25 - 01/31

LiveStream

7 Day: 1 Week (Mon - Sun) 9:00am-6:00pm

February 2021

02/01 - 02/28

LiveStream

4-week Morning (Mon,Wed,Fri) 9:00 am-1:00 pm - Plus last weekend

02/01 - 02/28

LiveStream

4-week evening (Mon,Wed,Fri) 6:30 pm-10:30 pm- Plus last weekend

02/08 - 02/14

LiveStream

7 Day: 1 Week (Mon - Sun) 9:00am-6:00pm

02/22 - 02/28

LiveStream

7 Day: 1 Week (Mon - Sun) 9:00am-6:00pm

March 2021

03/01 - 03/28

LiveStream

4-week Morning (Mon,Wed,Fri) 9:00 am-1:00 pm - Plus last weekend

03/01 - 03/28

LiveStream

4-week evening (Mon,Wed,Fri) 6:30 pm-10:30 pm- Plus last weekend

03/08 - 03/14

LiveStream

7 Day: 1 Week (Mon - Sun) 9:00am-6:00pm

03/12 - 03/28

LiveStream

3-week weekends (Fri,Sat,Sun) 6:30-10:30pm & 9am-6pm

03/22 - 03/28

LiveStream

7 Day: 1 Week (Mon - Sun) 9:00am-6:00pm

03/29 - 04/25

LiveStream

4-week Morning (Mon,Wed,Fri) 9:00 am-1:00 pm - Plus last weekend

03/29 - 04/25

LiveStream

4-week evening (Mon,Wed,Fri) 6:30 pm-10:30 pm- Plus last weekend

April 2021

04/05 - 04/29

LiveStream

4-week morning (Mon-Thurs) 9am-1pm

04/05 - 04/11

LiveStream

7 Day: 1 Week (Mon - Sun) 9:00am-6:00pm

04/09 - 04/25

LiveStream

3-week weekends (Fri,Sat,Sun) 6:30-10:30pm & 9am-6pm

04/19 - 04/25

LiveStream

7 Day: 1 Week (Mon - Sun) 9:00am-6:00pm

04/26 - 05/23

LiveStream

4-week Morning (Mon,Wed,Fri) 9:00 am-1:00 pm - Plus last weekend

04/26 - 05/23

LiveStream

4-week evening (Mon,Wed,Fri) 6:30 pm-10:30 pm- Plus last weekend

May 2021

05/03 - 05/09

LiveStream

7 Day: 1 Week (Mon - Sun) 9:00am-6:00pm

05/14 - 05/30

LiveStream

3-week weekends (Fri,Sat,Sun) 6:30-10:30pm & 9am-6pm

05/17 - 06/10

LiveStream

4-week morning (Mon-Thurs) 9am-1pm

05/17 - 05/23

LiveStream

7 Day: 1 Week (Mon - Sun) 9:00am-6:00pm

05/24 - 06/20

LiveStream

4-week Morning (Mon,Wed,Fri) 9:00 am-1:00 pm - Plus last weekend

05/24 - 06/20

LiveStream

4-week evening (Mon,Wed,Fri) 6:30 pm-10:30 pm- Plus last weekend

June 2021

06/04 - 06/20

LiveStream

3-week weekends (Fri,Sat,Sun) 6:30-10:30pm & 9am-6pm

06/07 - 06/13

LiveStream

7 Day: 1 Week (Mon - Sun) 9:00am-6:00pm

06/21 - 07/18

LiveStream

4-week Morning (Mon,Wed,Fri) 9:00 am-1:00 pm - Plus last weekend

06/21 - 06/27

LiveStream

7 Day: 1 Week (Mon - Sun) 9:00am-6:00pm

06/21 - 07/18

LiveStream

4-week evening (Mon,Wed,Fri) 6:30 pm-10:30 pm- Plus last weekend

July 2021

07/12 - 07/18

LiveStream

7 Day: 1 Week (Mon - Sun) 9:00am-6:00pm

07/19 - 08/15

LiveStream

4-week Morning (Mon,Wed,Fri) 9:00 am-1:00 pm - Plus last weekend

07/19 - 08/15

LiveStream

4-week evening (Mon,Wed,Fri) 6:30 pm-10:30 pm- Plus last weekend

07/26 - 08/01

LiveStream

7 Day: 1 Week (Mon - Sun) 9:00am-6:00pm

August 2021

08/09 - 08/15

LiveStream

7 Day: 1 Week (Mon - Sun) 9:00am-6:00pm

08/13 - 08/29

LiveStream

3-week weekends (Fri,Sat,Sun) 6:30-10:30pm & 9am-6pm

08/23 - 09/19

LiveStream

4-week Morning (Mon,Wed,Fri) 9:00 am-1:00 pm - Plus last weekend

08/23 - 08/29

LiveStream

7 Day: 1 Week (Mon - Sun) 9:00am-6:00pm

08/23 - 09/19

LiveStream

4-week evening (Mon,Wed,Fri) 6:30 pm-10:30 pm- Plus last weekend

September 2021

09/10 - 09/26

LiveStream

3-week weekends (Fri,Sat,Sun) 6:30-10:30pm & 9am-6pm

09/13 - 09/19

LiveStream

7 Day: 1 Week (Mon - Sun) 9:00am-6:00pm

09/20 - 10/17

LiveStream

4-week Morning (Mon,Wed,Fri) 9:00 am-1:00 pm - Plus last weekend

09/20 - 10/17

LiveStream

4-week evening (Mon,Wed,Fri) 6:30 pm-10:30 pm- Plus last weekend

09/27 - 10/03

LiveStream

7 Day: 1 Week (Mon - Sun) 9:00am-6:00pm

October 2021

10/11 - 11/04

LiveStream

4-week morning (Mon-Thurs) 9am-1pm

10/11 - 10/17

LiveStream

7 Day: 1 Week (Mon - Sun) 9:00am-6:00pm

10/15 - 10/31

LiveStream

3-week weekends (Fri,Sat,Sun) 6:30-10:30pm & 9am-6pm

10/18 - 11/14

LiveStream

4-week Morning (Mon,Wed,Fri) 9:00 am-1:00 pm - Plus last weekend

10/18 - 11/14

LiveStream

4-week evening (Mon,Wed,Fri) 6:30 pm-10:30 pm- Plus last weekend

10/25 - 10/31

LiveStream

7 Day: 1 Week (Mon - Sun) 9:00am-6:00pm

November 2021

11/05 - 11/21

LiveStream

3-week weekends (Fri,Sat,Sun) 6:30-10:30pm & 9am-6pm

11/08 - 11/14

LiveStream

7 Day: 1 Week (Mon - Sun) 9:00am-6:00pm

11/15 - 12/12

LiveStream

4-week Morning (Mon,Wed,Fri) 9:00 am-1:00 pm - Plus last weekend

11/15 - 12/12

LiveStream

4-week evening (Mon,Wed,Fri) 6:30 pm-10:30 pm- Plus last weekend

11/29 - 12/05

LiveStream

7 Day: 1 Week (Mon - Sun) 9:00am-6:00pm

December 2021

12/13 - 12/19

LiveStream

7 Day: 1 Week (Mon - Sun) 9:00am-6:00pm