We offer a great selection of calculators for the real estate, mortgage and appraisal industries. These can help you with the tough exam questions (where allowed by state law) and help you in your business.
Gold Coast has developed these study aids to help students retain the essential information needed to pass the state exam and launch their careers. We have found that the students who have the most success are those who repeatedly review the material that enables them to transform the information into knowledge. The following study aids in various formats are tailored to your preferred method of learning and will significantly increase your success in preparing for the state exam.
Bookstore items can be purchased online or by calling our Career Counselors at 1-800-732-9140.
Image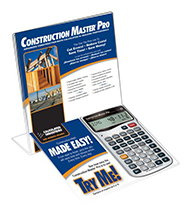 Name
Construction Master Pro Calculator
Description
CONSTRUCTION CALCULATOR: Increases estimate accuracy while cutting costs, errors, rework and time. Works in feet, inches, fractions, yards and metric; including square and cubic formats of each. Instant decimal to degree and weight per volume conversions, roof areas, rafter cutti ng angles, block and footing. Stair, circular and cost solutions. 3 built-in memories. User set preferences. This calculator has been approved to use on the state exam.
Image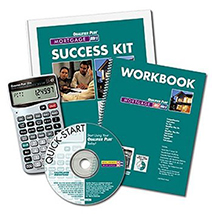 Name
Study Aids: Real Estate Qualifier+ IIIfx Calculator, Workbook, and Operation Instructions Link
Description
CALCULATOR PACKAGE: The world's best finance & qualifying calculator. Impress your clients with fast, accurate answers to all their Real Estate finance problems with the world's most complete and easy-to-use qualifying calculator. Have the answers to tough financing questions at your fingertips! Unlike a regular calculator, the Qualifier Plus IIIfx has custom and intuitive mortgage & qualifying keys; that allow you to solve hundreds of real estate problems quickly and accurately. No confusing keys or functions. You can use this calculator when taking the Florida Real Estate Associate state exam or the Florida Real Estate Broker state exam. Includes everything you need! Including the Qualifier IIx Plus Calculator, Workbook and link to web instructions on how to use it.