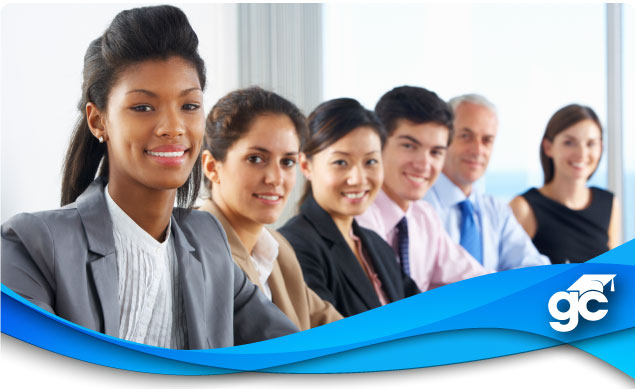 Florida Community Association Manager (CAM) License Course
Become a Community Association Manager!
Gold Coast is Florida's established leader in CAM Pre-license education courses.  Our highly successful CAM program has helped thousands of South Florida students pass their exam and become successful Community Association Managers.
Below you will find complete details about our CAM program.  Please contact our helpful Career Counselors at 1-800-732-9140 if you have any questions.  We are happy to help.
Gold Coast's Pre-License course includes:
Two days of informative classroom instruction designed to fully prepare you to achieve your license
Free unlimited review for up to one year

We don't believe in charging you retake fees if you need further review

Gold Coast Best-of-Both-Worlds policy benefiting both classroom and online course students

Classroom CAM pre-license students get access to online course modules and online practice questions to help them further review the material
Online CAM pre-license students who are enrolled in our Full Service option get access to attend classroom course sessions at no charge

Note for classroom and online students:

Classroom students must complete their required hours in class. The included online modules are for study purposes only.
Online students must complete all online components.  Access to classroom sessions is for review purposes only.

The course includes our "The Principles and Practice of Community Association Management" course textbook.
Numerous "Exam-Type" practice questions and tests through our CAM Cram course
All courses are taught by licensed Community Association Managers with diverse experience
By nature, Florida is an attractive place for people to purchase/rent properties including condominiums, apartments, and homes where a community association is present.  This opens up many market opportunities for licensed CAM's to generate substantial income.
The Board of Directors of a community association has the obligation to maintain, manage, and operate the community to serve its residents.  Often, though not required by law, the Board of Directors hires a CAM, who must be licensed by the state, to carry out these tasks.
* Many Real Estate licensees, appraisers and GC's are getting their CAM license to generate additional income and to better understand the requirements of the large and complex community association market.
Course Schedule:
Below you will find registration options for both Live Stream and Classroom classes.
To register for class, simply click on the "Register Now" link next to the course offering below, use the "Schedule Your Course" option above, or contact our helpful Career Counselors at 1-800-732-9140.  We are happy to assist.
"Full Service" Tuition (includes our $129 CRAM review course):  $399  Register Now
"Basic" Course Tuition:   $299  (Please use the Register Now links next to the class offerings below or call 1-800-732-9140 to reserve your seat.)
The 2-day course is offered in the following formats:
The Saturday & Sunday course runs from 9:00am-6:00pm
The Weekday course runs from 9:00am-6:00pm for 2 consecutive days (see dates and locations below)
August 2021

08/07 - 08/08

South Dade (Doral)

2 Days 9:00 am-6:00 pm

CAM Pre-License 16-hour (Classroom)

08/10 - 08/11

South Dade (Doral)

2 Days 9:00 am-6:00 pm

CAM Pre-License 16-hour (Classroom)

08/14 - 08/15

Tamarac (Broward)

2 Days 9:00 am-6:00 pm

CAM Pre-License 16-hour (Classroom)

08/21 - 08/22

LiveStream

2 Days 9:00 am-6:00 pm

CAM Pre-License 16-hour (LiveStream)

08/21 - 08/22

West Palm Beach (Lantana)

2 Days 9:00 am-6:00 pm

CAM Pre-License 16-hour (Classroom)

08/25 - 08/26

LiveStream

2 Days 9:00 am-6:00 pm

CAM Pre-License 16-hour (LiveStream)

08/28 - 08/29

Kissimmee

2 Days 9:00 am-6:00 pm

CAM Pre-License 16-hour (Classroom)

September 2021

09/07 - 09/08

LiveStream

2 Days 9:00 am-6:00 pm

CAM Pre-License 16-hour (LiveStream)

09/07 - 09/08

North Miami

2 Days 9:00 am-6:00 pm

CAM Pre-License 16-hour (Classroom)

09/11 - 09/12

East Orlando

2 Days 9:00 am-6:00 pm

CAM Pre-License 16-hour (Classroom)

09/11 - 09/12

South Dade (Doral)

2 Days 9:00 am-6:00 pm

CAM Pre-License 16-hour (Classroom)

09/14 - 09/15

NOrl-OBT

2 Days 9:00 am-6:00 pm

CAM Pre-License 16-hour (Classroom)

09/18 - 09/19

Stuart

2 Days 9:00 am-6:00 pm

CAM Pre-License 16-hour (Classroom)

09/18 - 09/19

Tamarac (Broward)

2 Days 9:00 am-6:00 pm

CAM Pre-License 16-hour (Classroom)

09/20 - 09/21

LiveStream

2 Days 9:00 am-6:00 pm

CAM Pre-License 16-hour (LiveStream)

09/25 - 09/26

Boca Raton

2 Days 9:00 am-6:00 pm

CAM Pre-License 16-hour (Classroom)

October 2021

10/02 - 10/03

LiveStream

2 Days 9:00 am-6:00 pm

CAM Pre-License 16-hour (LiveStream)

10/02 - 10/03

West Palm Beach (Lantana)

2 Days 9:00 am-6:00 pm

CAM Pre-License 16-hour (Classroom)

10/05 - 10/06

East Orlando

2 Days 9:00 am-6:00 pm

CAM Pre-License 16-hour (Classroom)

10/05 - 10/06

LiveStream

2 Days 9:00 am-6:00 pm

CAM Pre-License 16-hour (LiveStream)

10/05 - 10/06

North Miami

2 Days 9:00 am-6:00 pm

CAM Pre-License 16-hour (Classroom)

10/09 - 10/10

South Dade (Doral)

2 Days 9:00 am-6:00 pm

CAM Pre-License 16-hour (Classroom)

10/12 - 10/13

South Dade (Doral)

2 Days 9:00 am-6:00 pm

CAM Pre-License 16-hour (Classroom)

10/16 - 10/17

Tamarac (Broward)

2 Days 9:00 am-6:00 pm

CAM Pre-License 16-hour (Classroom)

10/23 - 10/24

LiveStream

2 Days 9:00 am-6:00 pm

CAM Pre-License 16-hour (LiveStream)

10/23 - 10/24

West Palm Beach (Lantana)

2 Days 9:00 am-6:00 pm

CAM Pre-License 16-hour (Classroom)

10/26 - 10/27

LiveStream

2 Days 9:00 am-6:00 pm

CAM Pre-License 16-hour (LiveStream)

10/30 - 10/31

Kissimmee

2 Days 9:00 am-6:00 pm

CAM Pre-License 16-hour (Classroom)

November 2021

11/02 - 11/03

LiveStream

2 Days 9:00 am-6:00 pm

CAM Pre-License 16-hour (LiveStream)

11/02 - 11/03

North Miami

2 Days 9:00 am-6:00 pm

CAM Pre-License 16-hour (Classroom)

11/06 - 11/07

East Orlando

2 Days 9:00 am-6:00 pm

CAM Pre-License 16-hour (Classroom)

11/06 - 11/07

South Dade (Doral)

2 Days 9:00 am-6:00 pm

CAM Pre-License 16-hour (Classroom)

11/13 - 11/14

LiveStream

2 Days 9:00 am-6:00 pm

CAM Pre-License 16-hour (LiveStream)

11/13 - 11/14

Stuart

2 Days 9:00 am-6:00 pm

CAM Pre-License 16-hour (Classroom)

11/13 - 11/14

West Palm Beach (Lantana)

2 Days 9:00 am-6:00 pm

CAM Pre-License 16-hour (Classroom)

11/16 - 11/17

NOrl-OBT

2 Days 9:00 am-6:00 pm

CAM Pre-License 16-hour (Classroom)

11/18 - 11/19

LiveStream

2 Days 9:00 am-6:00 pm

CAM Pre-License 16-hour (LiveStream)

11/20 - 11/21

Boca Raton

2 Days 9:00 am-6:00 pm

CAM Pre-License 16-hour (Classroom)

11/20 - 11/21

Tamarac (Broward)

2 Days 9:00 am-6:00 pm

CAM Pre-License 16-hour (Classroom)

December 2021

12/04 - 12/05

LiveStream

2 Days 9:00 am-6:00 pm

CAM Pre-License 16-hour (LiveStream)

12/04 - 12/05

West Palm Beach (Lantana)

2 Days 9:00 am-6:00 pm

CAM Pre-License 16-hour (Classroom)

12/07 - 12/08

East Orlando

2 Days 9:00 am-6:00 pm

CAM Pre-License 16-hour (Classroom)

12/07 - 12/08

LiveStream

2 Days 9:00 am-6:00 pm

CAM Pre-License 16-hour (LiveStream)

12/07 - 12/08

North Miami

2 Days 9:00 am-6:00 pm

CAM Pre-License 16-hour (Classroom)

12/09 - 12/10

Kissimmee

2 Days 9:00 am-6:00 pm

CAM Pre-License 16-hour (Classroom)

12/11 - 12/12

South Dade (Doral)

2 Days 9:00 am-6:00 pm

CAM Pre-License 16-hour (Classroom)

12/14 - 12/15

LiveStream

2 Days 9:00 am-6:00 pm

CAM Pre-License 16-hour (LiveStream)

12/14 - 12/15

South Dade (Doral)

2 Days 9:00 am-6:00 pm

CAM Pre-License 16-hour (Classroom)

12/18 - 12/19

Tamarac (Broward)

2 Days 9:00 am-6:00 pm

CAM Pre-License 16-hour (Classroom)