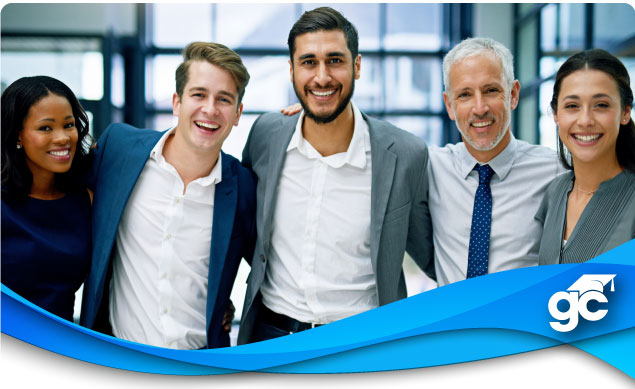 Florida's Best Real Estate Broker's License Course
72-hour Real Estate Broker Pre-license Class
In the state of Florida, real estate sales associates who achieve 2 years of experience qualify to become a Florida real estate broker.  In order to obtain your broker's license you must complete a state approved 72-hour real estate broker pre-license course.  Gold Coast Schools, Florida's leader in real estate education since 1970 makes it easy to take your career to the next level by offering the broker course in both classroom and online formats.  Below you will find complete details about both course formats and additional details about obtaining your license.
Please contact our helpful Career Counselors at 1-800-732-9140 if you have any questions.  We are happy to assist!
Gold Coast Schools has been offering professional education since 1970 and has grown to become Florida's number one real estate school based upon the number of enrollments during the past 10 years, the number of permanent classroom locations, and the classes and service that we provide.
We stand behind our motto "The Proof is in the Passing," because Gold Coast students consistently complete their course, pass the state exam, and launch successful careers. If you are serious about getting your Brokers license, Gold Coast has developed a tried and true program that enables you to do so.
The Broker's course has recently been redesigned utilizing the new Florida syllabus. The course covers real estate law, principles and practices, real estate math, closing statements and escrow account reconciliation amongst other areas.
Gold Coast's course offers many features that other schools simply don't. For example:
Both Classroom, LiveStream, and Online courses options
The largest selection of classroom course offerings in both day and evening options to meet your scheduling needs
Super Exam CRAM course (a 2 1/2 day comprehensive review) is included in your tuition at no additional charge

The CRAM review is optional, but recommended, as it will be an intensive review of the key topics, questions, and concepts that you will see on the actual state exam

Unlimited review for 2 years at no additional charge
No fees to retake classes within 2 years
Gold Coast exclusive copywritten materials
All classrooms are equipped with an LCD projector, computer, Power Point, and High speed internet connections (the same technology and presentation methods used in colleges & universities)
Customer service staff of more than 25 dedicated professionals to serve you
All instructors are selected based upon industry experience, knowledge, and the ability to teach concepts and adapt to various learning styles
Cooperation and referral programs with all area brokers
Gold Coast offers real estate licensing programs that simply can't be beat.  To learn more about how Gold Coast Schools will help you obtain your broker's license and grow your real estate career, contact our helpful Career Counselors at 1-800-732-9140.
Classroom Schedule:
Below you will find registration options for both Live Stream and Classroom classes.
To register for class, simply click on the "Register Now" button next to the course offering below, use the "Schedule Your Course" option above, or contact our helpful Career Counselors at 1-800-732-9140.  We are happy to assist.
Tuition for this course is: $599
The course is 72 classroom hours and can be taken in either a day or evening format, as well as online.
2 week day class runs Monday through Thursday from 9:00am-6:00pm. This course is primarily designed for students who are looking for a condensed class.
4 week day class runs Tuesday and Thursday from 9:00am -6:00pm. This class is designed for the working professional who cannot dedicate 2 complete weeks.
8 week evening class runs Tuesday and Thursday from 6:30pm-11:00pm. This course is designed for those who cannot come to school during normal business hours.
August 2021

08/17 - 09/09

East Orlando

4 weeks Tuesday & Thursday 9:00 am-6:00 pm

(English) 72-Hour Real Estate Broker's Pre-License Course

08/17 - 09/09

LiveStream

4 weeks Tuesday & Thursday 9:00 am-6:00 pm

(English) (LiveStream) 72-Hour Real Estate Broker's Pre-License Course

08/31 - 09/23

Tamarac (Broward)

4 weeks Tuesday & Thursday 9:00 am-6:00 pm

(English) 72-Hour Real Estate Broker's Pre-License Course

September 2021

09/07 - 09/30

LiveStream

4 Semanas | martes y jueves | 9:00 am-6:00 pm

(Spanish) (LiveStream) 72-Hour Real Estate Broker's Pre-License Course

09/07 - 09/30

North Miami

4 Semanas | martes y jueves | 9:00 am-6:00 pm

(Spanish) 72-Hour Real Estate Broker's Pre-License Course

09/07 - 09/16

West Palm Beach (Lantana)

8 days 9:00 am-6:00 pm

(English) 72-Hour Real Estate Broker's Pre-License Course

09/07 - 10/28

Boca Raton

8 weeks Tuesday & Thursday 6:30 pm-11:00 pm

(English) 72-Hour Real Estate Broker's Pre-License Course

09/07 - 10/28

LiveStream

8 weeks Tuesday & Thursday 6:30 pm-11:00 pm

(English) (LiveStream) 72-Hour Real Estate Broker's Pre-License Course

09/07 - 10/28

South Dade (Doral)

8 weeks Tuesday & Thursday 6:30 pm-11:00 pm

(English) 72-Hour Real Estate Broker's Pre-License Course

09/20 - 09/30

LiveStream

2 Week Monday - Thursday 9:00 am-6:00 pm

(English) (LiveStream) 72-Hour Real Estate Broker's Pre-License Course

09/20 - 09/30

NOrl-OBT

2 Week Monday - Thursday 9:00 am-6:00 pm

(English) 72-Hour Real Estate Broker's Pre-License Course

09/20 - 09/30

North Miami

2 Week Monday - Thursday 9:00 am-6:00 pm

(English) 72-Hour Real Estate Broker's Pre-License Course

09/28 - 11/18

East Orlando

8 weeks Tuesday & Thursday 6:30 pm-11:00 pm

(English) 72-Hour Real Estate Broker's Pre-License Course

09/28 - 11/18

Tamarac (Broward)

8 weeks Tuesday & Thursday 6:30 pm-11:00 pm

(English) 72-Hour Real Estate Broker's Pre-License Course

October 2021

10/04 - 10/14

Stuart

2 Week Monday - Thursday 9:00 am-6:00 pm

(English) 72-Hour Real Estate Broker's Pre-License Course

10/05 - 10/28

LiveStream

4 Semanas | martes y jueves | 9:00 am-6:00 pm

(Spanish) (LiveStream) 72-Hour Real Estate Broker's Pre-License Course

10/05 - 10/28

LiveStream

4 weeks Tuesday & Thursday 9:00 am-6:00 pm

(English) (LiveStream) 72-Hour Real Estate Broker's Pre-License Course

10/05 - 10/28

South Dade (Doral)

4 Semanas | martes y jueves | 9:00 am-6:00 pm

(Spanish) 72-Hour Real Estate Broker's Pre-License Course

10/05 - 10/28

South Dade (Doral)

4 weeks Tuesday & Thursday 9:00 am-6:00 pm

(English) 72-Hour Real Estate Broker's Pre-License Course

10/18 - 10/28

LiveStream

2 Week Monday - Thursday 9:00 am-6:00 pm

(English) (LiveStream) 72-Hour Real Estate Broker's Pre-License Course

10/18 - 10/28

Tamarac (Broward)

2 Week Monday - Thursday 9:00 am-6:00 pm

(English) 72-Hour Real Estate Broker's Pre-License Course

10/26 - 12/16

LiveStream

8 weeks Tuesday & Thursday 6:30 pm-11:00 pm

(English) (LiveStream) 72-Hour Real Estate Broker's Pre-License Course

10/26 - 12/16

North Miami

8 weeks Tuesday & Thursday 6:30 pm-11:00 pm

(English) 72-Hour Real Estate Broker's Pre-License Course

10/26 - 12/16

West Palm Beach (Lantana)

8 weeks Tuesday & Thursday 6:30 pm-11:00 pm

(English) 72-Hour Real Estate Broker's Pre-License Course

November 2021

11/01 - 11/11

East Orlando

2 Week Monday - Thursday 9:00 am-6:00 pm

(English) 72-Hour Real Estate Broker's Pre-License Course

11/02 - 11/24

North Miami

4 weeks Tuesday & Thursday 9:00 am-6:00 pm

(English) 72-Hour Real Estate Broker's Pre-License Course

11/16 - 12/09

LiveStream

4 Semanas | martes y jueves | 9:00 am-6:00 pm

(Spanish) (LiveStream) 72-Hour Real Estate Broker's Pre-License Course

11/16 - 12/09

LiveStream

4 weeks Tuesday & Thursday 9:00 am-6:00 pm

(English) (LiveStream) 72-Hour Real Estate Broker's Pre-License Course

11/16 - 12/09

North Miami

4 Semanas | martes y jueves | 9:00 am-6:00 pm

(Spanish) 72-Hour Real Estate Broker's Pre-License Course

11/16 - 12/09

West Palm Beach (Lantana)

4 weeks Tuesday & Thursday 9:00 am-6:00 pm

(English) 72-Hour Real Estate Broker's Pre-License Course

December 2021

12/06 - 12/16

NOrl-OBT

2 Week Monday - Thursday 9:00 am-6:00 pm

(English) 72-Hour Real Estate Broker's Pre-License Course