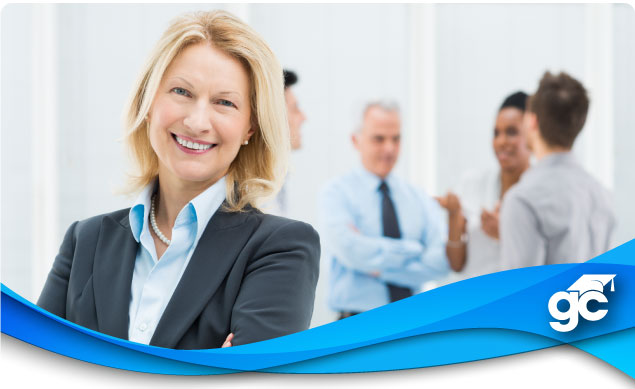 Real Estate Broker Post-license Course
Renew Your Florida Real Estate Broker's License Today!
The Florida Real Estate Commission rules require anyone with a Broker's license to complete 60 hours of Post-license training prior to their first renewal deadline. There is no grace period, and failing to complete a Post-License course before the deadline will result in your broker's license being null and void.
Don't procrastinate and put your license at risk.  If you have any questions regarding renewing your license, please contact our helpful Career Counselors at 1-800-732-9140.
Gold Coast School's Broker Post-license course is designed to go beyond the material taught in your Pre-license course, and enhance your skills in office management and investment analysis. The sooner you acquire these skills, the faster you will be able to put them to use and successfully build your business.
The 60 hour course is divided into two 30-hour segments and can be completed either through classroom or online instruction:
30-hours of Brokerage Office Management- Teaches the policy and procedures needed to run a successful real estate office.
30-hours of Single Family Residential Property Management (classroom & livestream) or 30-hours of Advance Topics (online)
It is recommended that fulfilling your Post-license requirement be done as soon as possible in order to put the skills that you learn to use immediately, as well as because the deadline for completion can sneak up on brokers putting their license at risk of being canceled.
View the Course Schedule tab for more information on the classroom course including dates and location, or the Online Course tab for details regarding the online format of the Broker Post-license course.
Our helpful Career Counselors are also standing by to answer any questions that you may have and can be reached at 1-800-732-9140.  We are happy to assist.
Classroom Broker Post Schedule
---
60-hour Package

$419
Includes all required hours needed to renew your broker's license for the first time:
30-hour Post Management Course
30-hour Post Single Family Residential Property Management
Purchase LIVESTREAM Package
Purchase CLASSROOM Package
---
Individual 30-hour Courses

$215
For individual 30-hour classes, click on the "Register Now" button next to the course offering below or contact our helpful Career Counselors at 1-800-732-9140. We are happy to assist.
Course Schedule:
August 2021

08/17 - 08/26

East Orlando

Tuesday & Thursday 9:00 am-5:00 pm

30 Hour Broker Post-License - Single Family Residential Property Management

08/17 - 08/26

Tamarac (Broward)

Tuesday & Thursday 9:00 am-5:00 pm

30 Hour Broker Post-License - Single Family Residential Property Management

08/24 - 09/02

North Miami

Tuesday & Thursday 9:00 am-5:00 pm

30 Hour Broker Post-License Management Course

08/31 - 09/09

NOrl-OBT

Tuesday & Thursday 9:00 am-5:00 pm

30 Hour Broker Post-License Management Course

08/31 - 09/09

South Dade (Doral)

Tuesday & Thursday 9:00 am-5:00 pm

30 Hour Broker Post-License Management Course

September 2021

09/07 - 09/16

North Miami

Tuesday & Thursday 9:00 am-5:00 pm

30 Hour Broker Post-License - Single Family Residential Property Management

09/14 - 09/23

NOrl-OBT

Tuesday & Thursday 9:00 am-5:00 pm

30 Hour Broker Post-License - Single Family Residential Property Management

09/14 - 09/23

South Dade (Doral)

Tuesday & Thursday 9:00 am-5:00 pm

30 Hour Broker Post-License - Single Family Residential Property Management