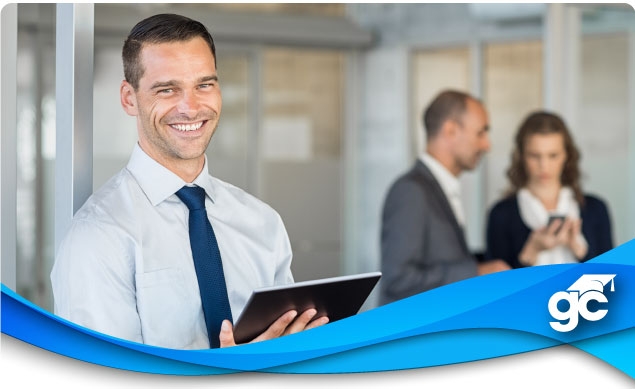 Florida Real Estate Sales Associate Post-license Course
Renewing your real estate license for the first time?
The Florida Real Estate Commission rules require anyone with a Sale Associate license to complete 45 hours of Post-License education prior to their first license renewal deadline. There is no grace period, and failing to take a Post-License course before the deadline will result in your license being null and void.  Don't procrastinate and put your license at risk.
Our staff is standing by to answer any questions that you may have about how to renew your license.  Please contact our helpful Career Counselors at 1-800-732-9140 for more information.  
Gold Coast makes it easy to complete your first license renewal with both classroom, livestream and online class formats of the required 45-hour post-license course.
Gold Coast School's Post-License Sales Associate course is designed to go beyond the principles of Real Estate that were taught in your pre-license course, and give you the real-world application skills that will enhance your ability to be successful out in the market. The sooner that you acquire these skills which include marketing techniques, listing acquisition, and helpful tips for buyers and sellers, the faster you will be able to build a solid base and experience greater success.
View the "Course Schedule" tab for information related to our classroom and livestream course, and the "Online Course" tab for details about the online version of this course.
Verify Your License Renewal Deadline:
To verify your license renewal date visit www.myfloridalicense.com and search by your license number or name.  This information is also printed on your real estate license.  Additionally, our helpful staff is happy to assist and can be reached at 1-800-732-9140.  We look forward to speaking with you about renewing your license.
Course Schedule:
Below you will find registration options for both LiveStream and Classroom classes.
To register for class, simply click on the "Register Now" button next to the course offering below, use the "Schedule Your Course" option above, or contact our helpful Career Counselors at 1-800-732-9140. We are happy to assist.
Tuition for this course is: $219
The Sales Associate Post-License 45-hour class is offered in two different formats to accommodate your busy schedule.
The 1-week class runs Monday through Friday from 9:00am – 6:00pm. The course is completed in one week.
The 4 week evening class runs Monday, Wednesday and Friday evenings from 6:30pm – 10:30pm, for 4 weeks.  Class starts on a Monday and the last week of class runs Monday and Wednesday
June 2021

06/21 - 07/16

Boca Raton

4-week evening Mon, Wed & Fri 6:30 pm-10:30 pm

45-Hr Real Estate Sales Associate Post-License Course

06/21 - 07/16

East Orlando

4-week evening Mon, Wed & Fri 6:30 pm-10:30 pm

45-Hr Real Estate Sales Associate Post-License Course

06/21 - 07/16

LiveStream

4-week evening Mon, Wed & Fri 6:30 pm-10:30 pm

45-Hr Sales Associate Post-License Course (Live Stream)

06/21 - 07/16

North Miami

4-week evening Mon, Wed & Fri 6:30 pm-10:30 pm

45-Hr Real Estate Sales Associate Post-License Course

06/21 - 07/16

North Orlando

4-week evening Mon, Wed & Fri 6:30 pm-10:30 pm

45-Hr Real Estate Sales Associate Post-License Course

06/21 - 07/16

South Dade (Doral)

4-week evening Mon, Wed & Fri 6:30 pm-10:30 pm

45-Hr Real Estate Sales Associate Post-License Course

06/21 - 07/16

Tamarac (Broward)

4-week evening Mon, Wed & Fri 6:30 pm-10:30 pm

45-Hr Real Estate Sales Associate Post-License Course

06/21 - 07/16

West Palm Beach (Lantana)

4-week evening Mon, Wed & Fri 6:30 pm-10:30 pm

45-Hr Real Estate Sales Associate Post-License Course

July 2021

07/19 - 07/23

Boca Raton

1 Week Mon - Fri 9:00 am-6:00 pm

45-Hr Real Estate Sales Associate Post-License Course

07/19 - 07/23

East Orlando

1 Week Mon - Fri 9:00 am-6:00 pm

45-Hr Real Estate Sales Associate Post-License Course

07/19 - 07/23

LiveStream

1 Week Mon - Fri 9:00 am-6:00 pm

45-Hr Sales Associate Post-License Course (Live Stream)

07/19 - 07/23

North Miami

1 Week Mon - Fri 9:00 am-6:00 pm

45-Hr Real Estate Sales Associate Post-License Course

07/19 - 07/23

South Dade (Doral)

1 Week Mon - Fri 9:00 am-6:00 pm

45-Hr Real Estate Sales Associate Post-License Course

07/19 - 07/23

Tamarac (Broward)

1 Week Mon - Fri 9:00 am-6:00 pm

45-Hr Real Estate Sales Associate Post-License Course

07/19 - 07/23

West Palm Beach (Lantana)

1 Week Mon - Fri 9:00 am-6:00 pm

45-Hr Real Estate Sales Associate Post-License Course

07/19 - 08/11

Boca Raton

4-week evening Mon, Wed & Fri 6:30 pm-10:30 pm

45-Hr Real Estate Sales Associate Post-License Course

07/19 - 08/11

East Orlando

4-week evening Mon, Wed & Fri 6:30 pm-10:30 pm

45-Hr Real Estate Sales Associate Post-License Course

07/19 - 08/11

LiveStream

4-week evening Mon, Wed & Fri 6:30 pm-10:30 pm

45-Hr Sales Associate Post-License Course (Live Stream)

07/19 - 08/11

North Miami

4-week evening Mon, Wed & Fri 6:30 pm-10:30 pm

45-Hr Real Estate Sales Associate Post-License Course

07/19 - 08/11

South Dade (Doral)

4-week evening Mon, Wed & Fri 6:30 pm-10:30 pm

45-Hr Real Estate Sales Associate Post-License Course

07/19 - 08/11

Tamarac (Broward)

4-week evening Mon, Wed & Fri 6:30 pm-10:30 pm

45-Hr Real Estate Sales Associate Post-License Course

07/19 - 08/11

West Palm Beach (Lantana)

4-week evening Mon, Wed & Fri 6:30 pm-10:30 pm

45-Hr Real Estate Sales Associate Post-License Course

07/23 - 08/01

NOrl-OBT

2-week weekends (Fri,Sat,Sun) 6:00-10:30pm & 9am-6pm

45-Hr Real Estate Sales Associate Post-License Course

07/26 - 08/18

Stuart

4-week evening Mon, Wed & Fri 6:30 pm-10:30 pm

45-Hr Real Estate Sales Associate Post-License Course

August 2021

08/16 - 08/20

NOrl-OBT

1 Week Mon - Fri 9:00 am-6:00 pm

45-Hr Real Estate Sales Associate Post-License Course

08/23 - 09/17

Boca Raton

4-week evening Mon, Wed & Fri 6:30 pm-10:30 pm

45-Hr Real Estate Sales Associate Post-License Course

08/23 - 09/17

East Orlando

4-week evening Mon, Wed & Fri 6:30 pm-10:30 pm

45-Hr Real Estate Sales Associate Post-License Course

08/23 - 09/17

LiveStream

4-week evening Mon, Wed & Fri 6:30 pm-10:30 pm

45-Hr Sales Associate Post-License Course (Live Stream)

08/23 - 09/17

NOrl-OBT

4-week evening Mon, Wed & Fri 6:30 pm-10:30 pm

45-Hr Real Estate Sales Associate Post-License Course

08/23 - 09/17

North Miami

4-week evening Mon, Wed & Fri 6:30 pm-10:30 pm

45-Hr Real Estate Sales Associate Post-License Course

08/23 - 09/17

South Dade (Doral)

4-week evening Mon, Wed & Fri 6:30 pm-10:30 pm

45-Hr Real Estate Sales Associate Post-License Course

08/23 - 09/17

Tamarac (Broward)

4-week evening Mon, Wed & Fri 6:30 pm-10:30 pm

45-Hr Real Estate Sales Associate Post-License Course

08/23 - 09/17

West Palm Beach (Lantana)

4-week evening Mon, Wed & Fri 6:30 pm-10:30 pm

45-Hr Real Estate Sales Associate Post-License Course

08/30 - 09/03

Boca Raton

1 Week Mon - Fri 9:00 am-6:00 pm

45-Hr Real Estate Sales Associate Post-License Course

08/30 - 09/03

East Orlando

1 Week Mon - Fri 9:00 am-6:00 pm

45-Hr Real Estate Sales Associate Post-License Course

08/30 - 09/03

LiveStream

1 Week Mon - Fri 9:00 am-6:00 pm

45-Hr Sales Associate Post-License Course (Live Stream)

08/30 - 09/03

North Miami

1 Week Mon - Fri 9:00 am-6:00 pm

45-Hr Real Estate Sales Associate Post-License Course

08/30 - 09/03

South Dade (Doral)

1 Week Mon - Fri 9:00 am-6:00 pm

45-Hr Real Estate Sales Associate Post-License Course

08/30 - 09/03

Tamarac (Broward)

1 Week Mon - Fri 9:00 am-6:00 pm

45-Hr Real Estate Sales Associate Post-License Course

08/30 - 09/03

West Palm Beach (Lantana)

1 Week Mon - Fri 9:00 am-6:00 pm

45-Hr Real Estate Sales Associate Post-License Course

September 2021

09/10 - 09/19

Celebration

2-week weekends (Fri,Sat,Sun) 6:00-10:30pm & 9am-6pm

45-Hr Real Estate Sales Associate Post-License Course

09/10 - 09/19

LiveStream

2-week weekends (Fri,Sat,Sun) 6:00-10:30pm & 9am-6pm

45-Hr Sales Associate Post-License Course (Live Stream)

09/20 - 09/24

Boca Raton

1 Week Mon - Fri 9:00 am-6:00 pm

45-Hr Real Estate Sales Associate Post-License Course

09/20 - 09/24

East Orlando

1 Week Mon - Fri 9:00 am-6:00 pm

45-Hr Real Estate Sales Associate Post-License Course

09/20 - 09/24

Kissimmee

1 Week Mon - Fri 9:00 am-6:00 pm

45-Hr Real Estate Sales Associate Post-License Course

09/20 - 09/24

LiveStream

1 Week Mon - Fri 9:00 am-6:00 pm

45-Hr Sales Associate Post-License Course (Live Stream)

09/20 - 09/24

North Miami

1 Week Mon - Fri 9:00 am-6:00 pm

45-Hr Real Estate Sales Associate Post-License Course

09/20 - 09/24

South Dade (Doral)

1 Week Mon - Fri 9:00 am-6:00 pm

45-Hr Real Estate Sales Associate Post-License Course

09/20 - 09/24

Stuart

1 Week Mon - Fri 9:00 am-6:00 pm

45-Hr Real Estate Sales Associate Post-License Course

09/20 - 09/24

Tamarac (Broward)

1 Week Mon - Fri 9:00 am-6:00 pm

45-Hr Real Estate Sales Associate Post-License Course

09/20 - 09/24

West Palm Beach (Lantana)

1 Week Mon - Fri 9:00 am-6:00 pm

45-Hr Real Estate Sales Associate Post-License Course