Programs & Licenses
Glass and Glazing Contractor
The Gold Coast School of Construction is the leader in construction education for both Registered County and State Certified contractors.  Students enroll with Gold Coast because they have one goal, to pass the state exam!  Our curriculum, methods, and team of experienced instructors are dedicated to helping every student achieve that goal.  We understand that anyone can claim to be the best school in Florida, but we can prove it.
The Gold Coast curriculum is an in depth review of all state examinations topics.  Our materials are continuously updated to reflect exam and code changes, and are direct, yet simple to understand.  Our instructors are licensed practicing professionals including Contractors, Architects, Engineers, Building Inspectors, and OSHA trainers who care about your success.
We understand that the details of how to get your Glazing Contractors License can be overwhelming, but the next few pages will clarify the process that you need to follow.
Glazing Contractor Exam Prep Program
Unlike many other license categories (Real Estate, Insurance, etc) there are no required pre-license courses that must be taken before you can take your state exam. The state will allow anyone and everyone to take the contractor's exam, however the object is to pass it the very first time. We make that possible with our exclusive program.
Gold Coasts Exam Prep program is offered in two formats:
Full Service Contractor Exam-Prep    Tuition: $599
See below for complete details.
Your Full-service Contractor Exam Prep Program will be divided into 3 parts all of which are included in your tuition.
Part I:
Comprehensive study guides complete with audio/visual presentations
Our exclusive module workbook that is topic specific with self contained learning segments
Exclusive exhibits
Multiple practice exams and optional online exam simulator
Part II:
Personal one on one tutoring one night a week with Joe Rebuck, Director of the School of Construction, who will guide you through the reference books and prepare you to be successful on the state exam.
Your tuition is valid for one year allowing you to take as many of these tutoring sessions as you would like.
Part III:
Intensive Cram Sessions one weekend each month (Cram's are in-depth reviews of exam style questions and scenarios and are designed to drive home the key topics needed to be successful on the state exam).
Enrolled students can repeat these crams at no extra charge as often as necessary within your one year tuition period.
To register online, use the drop down menu in the "Schedule My Course" box to select a campus location and start date. If you have any questions or would like to register by phone, please contact our helpful Career Counselors at 1-800-732-9140.
Tuition Information:
Full Service Exam Prep Program: (Includes class tutorials, and Cram Classes) – $599
(*Tuition does not include the state required reference books and tab sets. Contact a Career Counselor for complete details & pricing.)
Start your course anytime! Classes are held weekly.
Class Locations and Basic Schedule: (7:00pm-9:30pm)
Every 3rd and 4th Monday of the month in Broward
Below will describe the basic requirements for becoming in a licensed Glazing Contractor:
Must be 18 years of age
Have good moral character. (A criminal incident in the past

does not

prevent you from getting a license so long as you have had your civil rights restored, all debts to society paid, no pending or current liens such as IRS, and have no pending or ongoing criminal litigation).
Credit worthy. (Applicants will be subject to a credit report on both the applicant and the business with a preferred FICO score of a 660 or above. )

If you do not meet the 660 FICO score, you CAN still get your license by posting a licensing bond.

Bond amounts vary based on whether the applicant is a Division I or Division II contractor, however this amount can be reduced by 50% upon taking a board-approved financial responsibility course.
Gold Coast offers this course in addition to our exam prep programs: Learn more…Click Here!

Four years of general construction experience. (See below for experience details)
4 years of necessary experience:
You must have 4 years of general construction experience, however up to 3 years of experience can be substituted by years spent in college (1 year of college is considered approximately 30 credit hours). The college courses can be ANY college level courses, and do not need to be in the construction field. If you have a four year college degree, you qualify as having 3 years of construction experience. The 4th year of construction experience must be acquired through gaining field experience. For Glazing Contractors, you must have been a supervisor or foreman involved in the scheduling, delivery, staging, and installation of glazing, window, and door assemblies. The experience can be verified by another glazing contractor or by a residential, building, or general contractor.
Important note about experience:
Experience does not have to be gained in Florida or even the USA so long as it can be verified and notarized by a State Certified Florida Licensed Glazing or General Contractor, Architect, or Engineer that will attest to the fact that they personally know you, and have direct knowledge of your involvement on glazing projects for at least a one year period. This verifier does not have to be your employer.
You do not have to have the necessary experience before you take the exam. In fact, after passing the state exam you have up to 4 years to gain the necessary experience to become a licensed Glazing Contractor.
For a free evaluation of your experience and guidance in this career field, feel free to contact our Career Counselors at 1-800-732-9140.
To guarantee proper scheduling for this construction course, please contact our Career Counselors at 1-800-732-9140 to discuss the complete details.
Our cram courses are designed for classroom based Full Service students as an intensive review of sample scenarios and questions that will appear on the contractor exam. Meant as a compliment to the evening workshop classes, these reviews will greatly increase the likelihood of passing your exam the first time.
Exam-Cram Formats:
Weekend Cram: (Sat-Sun) 9:00am-5:00pm
Tuition:   Included in our Full Service package at no charge.
This two day intensive presentation consolidates the information and "zeros in" on exam topics. Day One is for all applicants and covers Business and Finance, preparing the applicant for Day One of the exam. Day Two covers the Technical portion of the exam with separate presentations for each covered license category. This powerful 2-day experience simulates exam conditions, gathers, consolidates, and amplifies the various threads of information which boosts the applicant's ability to succeed.
Attention Non-Gold Coast Exam Prep Students:
The CRAM course mentioned above compliments our exam prep-program, however if you are interested in receiving in depth review of the material we strongly recommend enrolling in our Crash Course.  Learn more about this course: Click Here!
West Palm Beach (Lantana)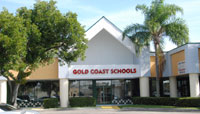 6216 S. Congress Avenue
Lantana, FL 33462
800-732-9140
From I-95:
Take I-95 to Lantana Road. Exit west on Lantana Road to Congress Ave. Turn left on Congress and then left into Atlantis Plaza.
From Turnpike:
(From the North) Take the turnpike to Lake Worth Road. Exit east on Lake Worth Road to Congress Ave. Turn right on Congress and then just past Lantana Road turn left into Atlantis Plaza.
(From the South) Take the turnpike to Boynton Beach Blvd. Exit east on Boynton Beach Blvd to Congress. Turn left (north) on Congress. Turn into Atlantis Plaza, just south of Lantana Road.
Boca Raton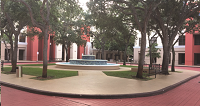 2600 N. Military Trail
Boca Raton, FL 33431
800-732-9140
From I-95: Exit on Palmetto Park Road and go west. Make a RIGHT onto Military Trail and continue for less than 2 miles. The location is in the Fountain Square complex located immediately after Butts Road on the right hand side.
From Turnpike: Exit on Glades Road and go EAST. Make a left on Butts Road. Follow the road around and make a left onto Military Trail. The location in the Fountain Square complex located on the right hand side.
Tamarac (Broward)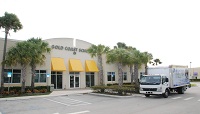 5600 Hiatus Road
Tamarac, FL 33321
800-732-9140
This Gold Coast building is located on the NE Corner of Hiatus Road and Commercial Blvd., approx. 1/8 mile East of the Sawgrass Expwy off of Commercial Blvd.
Registration for all Insurance and Construction classes are handled by the Gold Coast Professional Schools office at the Broward campus.
North Miami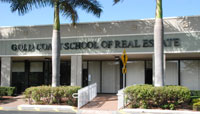 3577 N.E. 163rd Street
North Miami, FL 33160
800-732-9140
Located just minutes East of the Gold Glades Interchange (I-95, 826 and the Turnpike.) Exit on 163rd street and go East. Located in the Intracoastal Mall at N.E. 35th Ave.
South Dade (Doral)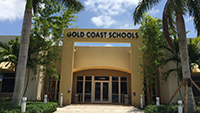 11250 N.W. 20th Street
Miami, FL 33172
800-732-9140
Because this is a new building, on a new street, you will not be able to find us on map search sites yet. Here are directions:
From the North:
Take the Florida Turnpike Extension south to NW 12th Street (exit # 27). Head east.Turn left on NW 111th Ave (just past the mall). Turn left on NW 20th Street. Building is on the left.
From the South:
Take the Florida Turnpike Extension north to NW 12th Street. Head east Turn left on NW 111th Ave (just past the mall). Turn left on NW 20th Street. Building is on the left.
From the East and Downtown Miami:
Head west on 836 to NW 107 Ave exit. Exit north on NW 107 Ave.Turn left on NW 12 St. Turn right on NW 111 Ave. Turn left on NW 20th St. Building is on left.