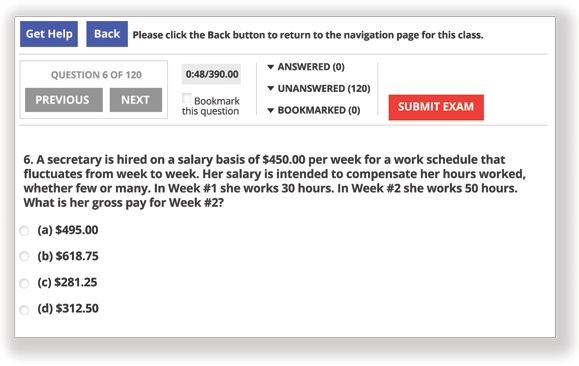 Florida Plumbing Contractor License Practice Exams

Gold Coast's Plumbing Contractor Practice Exam Simulators are built to give you a realistic state exam experience.  The practice exams included in these simulators mirror the actual state exam which allows you to fully prepare to achieve your Plumbing Contractor license.
You can utilize these practice exams as often as you like.  Each time you run a new exam, a randomly selected set of questions will be created from a large content area question pool.  You will receive a list of any questions that you answered incorrectly along with a reference and/or rationale explaining the correct answer choice immediately following each exam.
Your tuition is valid for a 12 month period allowing you plenty of time to prepare to ace your exam!
---
Additional Simulators for the Trade Knowledge Portion of the Plumbing contractor exams will be available soon.  
Business & Finance Simulator
$49.95
This Florida Contractor's Exam Prep simulator includes hundreds of professionally written questions that will assist you in preparing for the Business and Finanance portion of your state Contractor's exam.
Since the actual Business & Finance exam is given by the state in a computer based format, our practice exam simulator provides you with an added advantage!
Business & Finance

Establishing the Contracting Business
Managing Administrative Duties
Managing Trade Operations
Conducting Accounting Functions
Managing Human Resources
Complying with Government Regulations
---