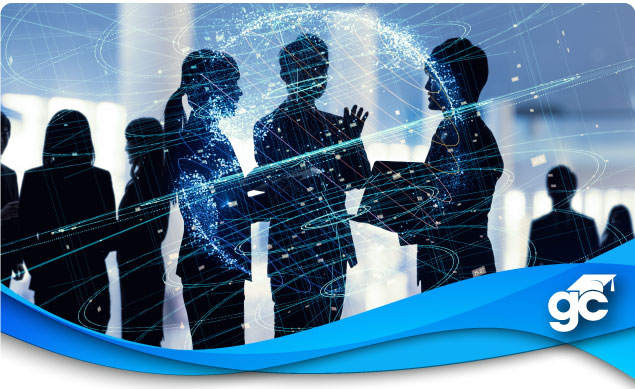 Attend a Career Fair Today!
Meet with companies who are looking to hire Gold Coast Graduates.
Gold Coast Schools hosts career fairs throughout the year as an opportunity for anyone who is getting into the real estate, insurance, or mortgage industry to meet with companies that are hiring.  These events are held in a friendly and casual environment, and serve as a great opportunity to compare several companies in one convenient location.
ATTENTION COMPANIES:
If you are a COMPANY interested in participating in a Career Fair      Register Here
We often find that students have several questions related to commission splits, the size of the company that they should work for, the type of training that is provided, etc.  The career fair is a great opportunity to ask these and any other questions that you may have.  If you are shy or are not sure what to ask, simply let the companies in attendance know that you are new to the industry and are gathering information.  They are happy to talk to you about their company and how they can help you with your career.
We strongly encourage anyone who is looking to start a new career to come to a career fair! 
View the Course Schedule tab for a list of upcoming Career Fair dates and locations.
To register online, click "Register Now" next to a date and location below. If you have any questions or would like to register by phone, please contact our helpful Career Counselors at 1-800-732-9140.
---
ATTENTION COMPANIES: If you are a COMPANY interested in participating in a Career Fair Register Here
---
Career Fair Schedule:
August 2021

08/11 - 08/11

South Dade (Doral)

1 Day 10:30 am-1:30pm

08/25 - 08/25

North Miami

1 Day 10:30 am-1:30pm

September 2021

09/15 - 09/15

Tamarac (Broward)

1 Day 10:30 am-1:30pm

October 2021

10/13 - 10/13

South Dade (Doral)

1 Day 10:30 am-1:30pm

10/27 - 10/27

West Palm Beach (Lantana)

1 Day 10:30 am-1:30pm

November 2021

11/10 - 11/10

Tamarac (Broward)

1 Day 10:30 am-1:30pm

December 2021

12/01 - 12/01

South Dade (Doral)

1 Day 10:30 am-1:30pm