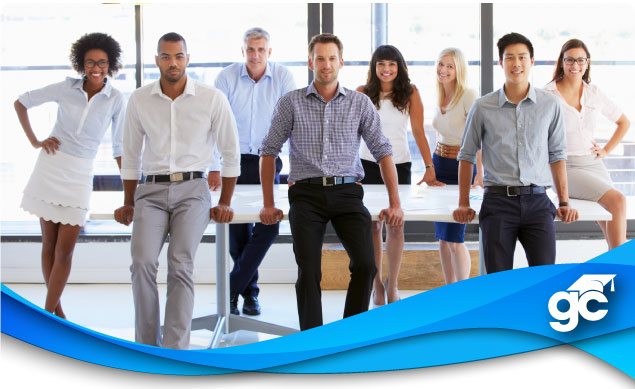 Ready to Get Your Florida Real Estate License?
63-hour Sales Associate Pre-license Course
In the state of Florida, becoming a real estate Sales Associate, commonly referred to as a real estate agent, requires completing a state approved 63-hour Sales Associate Pre-license course.  Gold Coast School of Real Estate has served as Florida's leader in classroom, livestream, and online real estate education offering courses in both English and Spanish.  Below you will find complete details about these course options, as well as the many benefits that we have built into each program to ensure that you will be successful.
Gold Coast Schools has offered professional education since 1970 and has grown to become Florida's number one real estate school based upon the number of enrollments during the past 10 years, the number of permanent classroom locations, and the classes and service that we provide.
We stand behind our motto "The Proof is in the Passing," because Gold Coast students consistently complete their course, pass the state exam, and launch successful careers. If you are serious about getting your real estate license, Gold Coast has developed a tried and true program that enables you to do so.
Gold Coast offers many benefits that other schools simply don't:
Both English and Spanish, as well as classroom, livestream, and online course options are available (Visit Spanish Course Page)
We offer the largest schedule of classes in either day, morning, or evening formats to meet your scheduling needs
Classroom tuition is valid for 2 years during which you will never pay the type of fees that other schools charge:

No retake fees

 allowing you to review the course as often as necessary

No transfer fees

 if you have to change between classroom classes for any reason

No additional materials fees

 for textbooks and included resources

Online course tuition is valid for 1 year giving you plenty of time to complete the course at your own pace
Our weekend 2 1/2 day CRAM review course designed to hone in on topics & questions that you will face on the state exam is included a

no additional charge

Our "Best of Both Worlds" Policy helps you learn in the format that is best for you

Classroom & Livestream students get access to online course modules and online review questions to help with studying and passing the course and state exam

Online modules are for review purposes only and do not count towards your classroom course hours

Online students are welcome attend livestream sessions to review the material at no charge

Online students do not get credit for attending livestream classes.  It is strictly for information/review purposes only

Instructors are selected based upon industry experience, presentation skills, and their ability to make learning fun and engaging
We make it easy to work for the top local real estate companies:
Gold Coast materials are exclusive and copy-written meaning that we do not use generic textbooks from national publishers who adapted their materials for Florida.

Our textbook materials are written specifically for the Florida real estate exam and include 1001 additional practice questions and answers based on experience and feedback from more than 50 years of education experience in Florida
Getting started in real estate:
Getting your real estate license is an exciting and sometimes nerve-racking decision.  We completely understand this, and encourage anyone who has decided to start a career in real estate to make choosing quality education their first priority.  Our students are often nervous on the first day of class since most have not been in a classroom setting for many years.  This goes away within the first hour when students get comfortable and see that they are not alone, and that their instructor is completely dedicated to their success.
When it comes to real estate education, Gold Coast puts the success of students above all else.  Whether you are set on getting your real estate license, or have been thinking about it for awhile, our staff is here to help answer any questions that you may have.  Give us a call today at 1-800-732-9140 or take advantage of the Live Chat option found at the top of the page.
Please refer to the Course Schedule, Online Course, and Requirements tabs on this page for more details.
Course Schedule:
Below you will find registration options for both Live Stream and Classroom classes.
To register for class, simply click on the "Register Now" button next to the course offering below, use the "Schedule Your Course" option above, or contact our helpful Career Counselors at 1-800-732-9140. We are happy to assist.
Tuition for this course is: $499
The 7-day class runs Monday through Sunday from 9:00am-6:00pm. The course is completed in one week.
The 4-week

evening

class runs Monday, Wednesday and Friday evenings from 6:30p-10:30p, for 4 weeks. The class also meets the last weekend, Saturday and Sunday from 9:00a-6:00p.
The 4-week

morning

class runs Monday, Wednesday and Friday mornings from 9:00a-1:00p, for 4 weeks. The class also meets the last weekend, Saturday and Sunday from 9:00a-6:00p.
The 3-week

weekend

 class runs on Friday from 6:30p-10:30p and Saturday-Sunday from 9:00a-6:00p for 3 weeks. The class also meets the last weekend, Saturday and Sunday from 9:00a-6:00p.
For the Spanish Course and Schedule: (Visit Spanish Course Page)
August 2021

08/07 - 08/29

NOrl-OBT

4-week weekends (Sat,Sun) 9:00am-5:00pm

(Classroom) Real Estate 63-Hour Sales Associate Pre-License Course

08/09 - 08/15

Boca Raton

7 Day: 1 Week (Mon - Sun) 9:00am-6:00pm

(Classroom) Real Estate 63-Hour Sales Associate Pre-License Course

08/09 - 08/15

East Orlando

7 Day: 1 Week (Mon - Sun) 9:00am-6:00pm

(Classroom) Real Estate 63-Hour Sales Associate Pre-License Course

08/09 - 08/23

LiveStream

2-week (Mon - Fri) 9:00am-3:00pm

(Livestream) Real Estate 63-Hour Sales Associate Pre-License Course

08/09 - 08/15

LiveStream

7 Day: 1 Week (Mon - Sun) 9:00am-6:00pm

(Livestream) Real Estate 63-Hour Sales Associate Pre-License Course

08/09 - 08/20

NOrl-OBT

2-week (Mon - Fri) 9:00am-3:00pm

(Classroom) Real Estate 63-Hour Sales Associate Pre-License Course

08/09 - 08/15

North Miami

7 Day: 1 Week (Mon - Sun) 9:00am-6:00pm

(Classroom) Real Estate 63-Hour Sales Associate Pre-License Course

08/09 - 08/15

South Dade (Doral)

7 Day: 1 Week (Mon - Sun) 9:00am-6:00pm

(Classroom) Real Estate 63-Hour Sales Associate Pre-License Course

08/09 - 08/15

Tamarac (Broward)

7 Day: 1 Week (Mon - Sun) 9:00am-6:00pm

(Classroom) Real Estate 63-Hour Sales Associate Pre-License Course

08/09 - 08/15

West Palm Beach (Lantana)

7 Day: 1 Week (Mon - Sun) 9:00am-6:00pm

(Classroom) Real Estate 63-Hour Sales Associate Pre-License Course

08/13 - 08/29

Celebration

3-week weekends (Fri,Sat,Sun) 6:30-10:30pm & 9am-6pm

(Classroom) Real Estate 63-Hour Sales Associate Pre-License Course

08/13 - 08/29

LiveStream

3-week weekends (Fri,Sat,Sun) 6:30-10:30pm & 9am-6pm

(Livestream) Real Estate 63-Hour Sales Associate Pre-License Course

08/16 - 08/22

Deland

7 Day: 1 Week (Mon - Sun) 9:00am-6:00pm

(Classroom) Real Estate 63-Hour Sales Associate Pre-License Course

08/16 - 08/22

Ocala Realty World

7 days 9:00 am-6:00 pm

(Classroom) Real Estate 63-Hour Sales Associate Pre-License Course

08/23 - 09/19

Boca Raton

4-week Morning (Mon,Wed,Fri) 9:00 am-1:00 pm - Plus last weekend

(Classroom) Real Estate 63-Hour Sales Associate Pre-License Course

08/23 - 08/29

Boca Raton

7 Day: 1 Week (Mon - Sun) 9:00am-6:00pm

(Classroom) Real Estate 63-Hour Sales Associate Pre-License Course

08/23 - 09/19

East Orlando

4-week Morning (Mon,Wed,Fri) 9:00 am-1:00 pm - Plus last weekend

(Classroom) Real Estate 63-Hour Sales Associate Pre-License Course

08/23 - 08/29

East Orlando

7 Day: 1 Week (Mon - Sun) 9:00am-6:00pm

(Classroom) Real Estate 63-Hour Sales Associate Pre-License Course

08/23 - 09/19

LiveStream

4-week Morning (Mon,Wed,Fri) 9:00 am-1:00 pm - Plus last weekend

(Livestream) Real Estate 63-Hour Sales Associate Pre-License Course

08/23 - 08/29

LiveStream

7 Day: 1 Week (Mon - Sun) 9:00am-6:00pm

(Livestream) Real Estate 63-Hour Sales Associate Pre-License Course

08/23 - 09/19

NOrl-OBT

4-week Morning (Mon,Wed,Fri) 9:00 am-1:00 pm - Plus last weekend

(Classroom) Real Estate 63-Hour Sales Associate Pre-License Course

08/23 - 08/29

NOrl-OBT

7 Day: 1 Week (Mon - Sun) 9:00am-6:00pm

(Classroom) Real Estate 63-Hour Sales Associate Pre-License Course

08/23 - 09/19

North Miami

4-week Morning (Mon,Wed,Fri) 9:00 am-1:00 pm - Plus last weekend

(Classroom) Real Estate 63-Hour Sales Associate Pre-License Course

08/23 - 08/29

North Miami

7 Day: 1 Week (Mon - Sun) 9:00am-6:00pm

(Classroom) Real Estate 63-Hour Sales Associate Pre-License Course

08/23 - 09/19

South Dade (Doral)

4-week Morning (Mon,Wed,Fri) 9:00 am-1:00 pm - Plus last weekend

(Classroom) Real Estate 63-Hour Sales Associate Pre-License Course

08/23 - 08/29

South Dade (Doral)

7 Day: 1 Week (Mon - Sun) 9:00am-6:00pm

(Classroom) Real Estate 63-Hour Sales Associate Pre-License Course

08/23 - 09/19

Tamarac (Broward)

4-week Morning (Mon,Wed,Fri) 9:00 am-1:00 pm - Plus last weekend

(Classroom) Real Estate 63-Hour Sales Associate Pre-License Course

08/23 - 08/29

Tamarac (Broward)

7 Day: 1 Week (Mon - Sun) 9:00am-6:00pm

(Classroom) Real Estate 63-Hour Sales Associate Pre-License Course

08/23 - 09/19

West Palm Beach (Lantana)

4-week Morning (Mon,Wed,Fri) 9:00 am-1:00 pm - Plus last weekend

(Classroom) Real Estate 63-Hour Sales Associate Pre-License Course

08/23 - 08/29

West Palm Beach (Lantana)

7 Day: 1 Week (Mon - Sun) 9:00am-6:00pm

(Classroom) Real Estate 63-Hour Sales Associate Pre-License Course

08/23 - 09/19

Boca Raton

4-week evening (Mon,Wed,Fri) 6:30 pm-10:30 pm- Plus last weekend

(Classroom) Real Estate 63-Hour Sales Associate Pre-License Course

08/23 - 09/19

East Orlando

4-week evening (Mon,Wed,Fri) 6:30 pm-10:30 pm- Plus last weekend

(Classroom) Real Estate 63-Hour Sales Associate Pre-License Course

08/23 - 09/19

Kissimmee

4-week evening (Mon,Wed,Fri) 6:30 pm-10:30 pm- Plus last weekend

(Classroom) Real Estate 63-Hour Sales Associate Pre-License Course

08/23 - 09/19

LiveStream

4-week evening (Mon,Wed,Fri) 6:30 pm-10:30 pm- Plus last weekend

(Livestream) Real Estate 63-Hour Sales Associate Pre-License Course

08/23 - 09/19

North Miami

4-week evening (Mon,Wed,Fri) 6:30 pm-10:30 pm- Plus last weekend

(Classroom) Real Estate 63-Hour Sales Associate Pre-License Course

08/23 - 09/19

South Dade (Doral)

4-week evening (Mon,Wed,Fri) 6:30 pm-10:30 pm- Plus last weekend

(Classroom) Real Estate 63-Hour Sales Associate Pre-License Course

08/23 - 09/19

Stuart

4-week evening (Mon,Wed,Fri) 6:30 pm-10:30 pm- Plus last weekend

(Classroom) Real Estate 63-Hour Sales Associate Pre-License Course

08/23 - 09/19

Tamarac (Broward)

4-week evening (Mon,Wed,Fri) 6:30 pm-10:30 pm- Plus last weekend

(Classroom) Real Estate 63-Hour Sales Associate Pre-License Course

08/23 - 09/19

West Palm Beach (Lantana)

4-week evening (Mon,Wed,Fri) 6:30 pm-10:30 pm- Plus last weekend

(Classroom) Real Estate 63-Hour Sales Associate Pre-License Course

08/30 - 09/05

NOrl-OBT

7 Day: 1 Week (Mon - Sun) 9:00am-6:00pm

(Classroom) Real Estate 63-Hour Sales Associate Pre-License Course

08/31 - 10/05

Clermont

5-week nights (Tu-W-Th) 6:00-10:00pm

(Classroom) Real Estate 63-Hour Sales Associate Pre-License Course

September 2021

09/07 - 10/28

LiveStream

8 weeks Tuesday & Thursday 6:00 pm-10:00 pm

(Livestream) Real Estate 63-Hour Sales Associate Pre-License Course

09/07 - 10/28

NOrl-OBT

8 weeks Tuesday & Thursday 6:00 pm-10:00 pm

(Classroom) Real Estate 63-Hour Sales Associate Pre-License Course

09/13 - 09/19

Boca Raton

7 Day: 1 Week (Mon - Sun) 9:00am-6:00pm

(Classroom) Real Estate 63-Hour Sales Associate Pre-License Course

09/13 - 09/19

East Orlando

7 Day: 1 Week (Mon - Sun) 9:00am-6:00pm

(Classroom) Real Estate 63-Hour Sales Associate Pre-License Course

09/13 - 09/19

LiveStream

7 Day: 1 Week (Mon - Sun) 9:00am-6:00pm

(Livestream) Real Estate 63-Hour Sales Associate Pre-License Course

09/13 - 09/24

MountDora

2-week (Mon - Fri) 9:00am-3:00pm

(Classroom) Real Estate 63-Hour Sales Associate Pre-License Course

09/13 - 09/19

North Miami

7 Day: 1 Week (Mon - Sun) 9:00am-6:00pm

(Classroom) Real Estate 63-Hour Sales Associate Pre-License Course

09/13 - 09/19

South Dade (Doral)

7 Day: 1 Week (Mon - Sun) 9:00am-6:00pm

(Classroom) Real Estate 63-Hour Sales Associate Pre-License Course

09/13 - 09/19

Tamarac (Broward)

7 Day: 1 Week (Mon - Sun) 9:00am-6:00pm

(Classroom) Real Estate 63-Hour Sales Associate Pre-License Course

09/13 - 09/19

West Palm Beach (Lantana)

7 Day: 1 Week (Mon - Sun) 9:00am-6:00pm

(Classroom) Real Estate 63-Hour Sales Associate Pre-License Course

09/13 - 09/27

Lake Nona

2-week (Mon - Fri) 3:00pm-9:00pm

(Classroom) Real Estate 63-Hour Sales Associate Pre-License Course

09/20 - 10/17

Boca Raton

4-week Morning (Mon,Wed,Fri) 9:00 am-1:00 pm - Plus last weekend

(Classroom) Real Estate 63-Hour Sales Associate Pre-License Course

09/20 - 09/26

Deland

7 Day: 1 Week (Mon - Sun) 9:00am-6:00pm

(Classroom) Real Estate 63-Hour Sales Associate Pre-License Course

09/20 - 10/17

East Orlando

4-week Morning (Mon,Wed,Fri) 9:00 am-1:00 pm - Plus last weekend

(Classroom) Real Estate 63-Hour Sales Associate Pre-License Course

09/20 - 10/17

LiveStream

4-week Morning (Mon,Wed,Fri) 9:00 am-1:00 pm - Plus last weekend

(Livestream) Real Estate 63-Hour Sales Associate Pre-License Course

09/20 - 10/17

North Miami

4-week Morning (Mon,Wed,Fri) 9:00 am-1:00 pm - Plus last weekend

(Classroom) Real Estate 63-Hour Sales Associate Pre-License Course

09/20 - 10/17

South Dade (Doral)

4-week Morning (Mon,Wed,Fri) 9:00 am-1:00 pm - Plus last weekend

(Classroom) Real Estate 63-Hour Sales Associate Pre-License Course

09/20 - 10/17

Tamarac (Broward)

4-week Morning (Mon,Wed,Fri) 9:00 am-1:00 pm - Plus last weekend

(Classroom) Real Estate 63-Hour Sales Associate Pre-License Course

09/20 - 10/17

West Palm Beach (Lantana)

4-week Morning (Mon,Wed,Fri) 9:00 am-1:00 pm - Plus last weekend

(Classroom) Real Estate 63-Hour Sales Associate Pre-License Course

09/20 - 10/17

Boca Raton

4-week evening (Mon,Wed,Fri) 6:30 pm-10:30 pm- Plus last weekend

(Classroom) Real Estate 63-Hour Sales Associate Pre-License Course

09/20 - 10/17

East Orlando

4-week evening (Mon,Wed,Fri) 6:30 pm-10:30 pm- Plus last weekend

(Classroom) Real Estate 63-Hour Sales Associate Pre-License Course

09/20 - 10/17

LiveStream

4-week evening (Mon,Wed,Fri) 6:30 pm-10:30 pm- Plus last weekend

(Livestream) Real Estate 63-Hour Sales Associate Pre-License Course

09/20 - 10/17

NOrl-OBT

4-week evening (Mon,Wed,Fri) 6:30 pm-10:30 pm- Plus last weekend

(Classroom) Real Estate 63-Hour Sales Associate Pre-License Course

09/20 - 10/17

North Miami

4-week evening (Mon,Wed,Fri) 6:30 pm-10:30 pm- Plus last weekend

(Classroom) Real Estate 63-Hour Sales Associate Pre-License Course

09/20 - 10/17

South Dade (Doral)

4-week evening (Mon,Wed,Fri) 6:30 pm-10:30 pm- Plus last weekend

(Classroom) Real Estate 63-Hour Sales Associate Pre-License Course

09/20 - 10/17

Tamarac (Broward)

4-week evening (Mon,Wed,Fri) 6:30 pm-10:30 pm- Plus last weekend

(Classroom) Real Estate 63-Hour Sales Associate Pre-License Course

09/20 - 10/17

West Palm Beach (Lantana)

4-week evening (Mon,Wed,Fri) 6:30 pm-10:30 pm- Plus last weekend

(Classroom) Real Estate 63-Hour Sales Associate Pre-License Course

09/27 - 10/03

Boca Raton

7 Day: 1 Week (Mon - Sun) 9:00am-6:00pm

(Classroom) Real Estate 63-Hour Sales Associate Pre-License Course

09/27 - 10/03

East Orlando

7 Day: 1 Week (Mon - Sun) 9:00am-6:00pm

(Classroom) Real Estate 63-Hour Sales Associate Pre-License Course

09/27 - 10/03

LiveStream

7 Day: 1 Week (Mon - Sun) 9:00am-6:00pm

(Livestream) Real Estate 63-Hour Sales Associate Pre-License Course

09/27 - 10/03

NOrl-OBT

7 Day: 1 Week (Mon - Sun) 9:00am-6:00pm

(Classroom) Real Estate 63-Hour Sales Associate Pre-License Course

09/27 - 10/03

North Miami

7 Day: 1 Week (Mon - Sun) 9:00am-6:00pm

(Classroom) Real Estate 63-Hour Sales Associate Pre-License Course

09/27 - 10/03

South Dade (Doral)

7 Day: 1 Week (Mon - Sun) 9:00am-6:00pm

(Classroom) Real Estate 63-Hour Sales Associate Pre-License Course

09/27 - 10/03

Stuart

7 Day: 1 Week (Mon - Sun) 9:00am-6:00pm

(Classroom) Real Estate 63-Hour Sales Associate Pre-License Course

09/27 - 10/03

Tamarac (Broward)

7 Day: 1 Week (Mon - Sun) 9:00am-6:00pm

(Classroom) Real Estate 63-Hour Sales Associate Pre-License Course

09/27 - 10/03

West Palm Beach (Lantana)

7 Day: 1 Week (Mon - Sun) 9:00am-6:00pm

(Classroom) Real Estate 63-Hour Sales Associate Pre-License Course

October 2021

10/01 - 10/17

Celebration

3-week weekends (Fri,Sat,Sun) 6:30-10:30pm & 9am-6pm

(Classroom) Real Estate 63-Hour Sales Associate Pre-License Course

10/01 - 10/17

LiveStream

3-week weekends (Fri,Sat,Sun) 6:30-10:30pm & 9am-6pm

(Livestream) Real Estate 63-Hour Sales Associate Pre-License Course

10/04 - 10/18

Oviedo

2-week (Mon - Fri) 3:00pm-9:00pm

(Classroom) Real Estate 63-Hour Sales Associate Pre-License Course

10/09 - 10/31

LiveStream

4-week weekends (Sat,Sun) 9:00am-5:00pm

(Livestream) Real Estate 63-Hour Sales Associate Pre-License Course

10/09 - 10/31

NOrl-OBT

4-week weekends (Sat,Sun) 9:00am-5:00pm

(Classroom) Real Estate 63-Hour Sales Associate Pre-License Course

10/11 - 10/17

Boca Raton

7 Day: 1 Week (Mon - Sun) 9:00am-6:00pm

(Classroom) Real Estate 63-Hour Sales Associate Pre-License Course

10/11 - 10/17

East Orlando

7 Day: 1 Week (Mon - Sun) 9:00am-6:00pm

(Classroom) Real Estate 63-Hour Sales Associate Pre-License Course

10/11 - 10/25

LiveStream

2-week (Mon - Fri) 9:00am-3:00pm

(Livestream) Real Estate 63-Hour Sales Associate Pre-License Course

10/11 - 11/04

LiveStream

4-week morning (Mon-Thurs) 9am-1pm

(Livestream) Real Estate 63-Hour Sales Associate Pre-License Course

10/11 - 10/17

LiveStream

7 Day: 1 Week (Mon - Sun) 9:00am-6:00pm

(Livestream) Real Estate 63-Hour Sales Associate Pre-License Course

10/11 - 10/22

NOrl-OBT

2-week (Mon - Fri) 9:00am-3:00pm

(Classroom) Real Estate 63-Hour Sales Associate Pre-License Course

10/11 - 11/04

North Miami

4-week morning (Mon-Thurs) 9am-1pm

(Classroom) Real Estate 63-Hour Sales Associate Pre-License Course

10/11 - 10/17

North Miami

7 Day: 1 Week (Mon - Sun) 9:00am-6:00pm

(Classroom) Real Estate 63-Hour Sales Associate Pre-License Course

10/11 - 10/17

South Dade (Doral)

7 Day: 1 Week (Mon - Sun) 9:00am-6:00pm

(Classroom) Real Estate 63-Hour Sales Associate Pre-License Course

10/11 - 10/17

Tamarac (Broward)

7 Day: 1 Week (Mon - Sun) 9:00am-6:00pm

(Classroom) Real Estate 63-Hour Sales Associate Pre-License Course

10/11 - 10/17

West Palm Beach (Lantana)

7 Day: 1 Week (Mon - Sun) 9:00am-6:00pm

(Classroom) Real Estate 63-Hour Sales Associate Pre-License Course

10/18 - 11/14

Boca Raton

4-week Morning (Mon,Wed,Fri) 9:00 am-1:00 pm - Plus last weekend

(Classroom) Real Estate 63-Hour Sales Associate Pre-License Course

10/18 - 11/14

East Orlando

4-week Morning (Mon,Wed,Fri) 9:00 am-1:00 pm - Plus last weekend

(Classroom) Real Estate 63-Hour Sales Associate Pre-License Course

10/18 - 11/14

LiveStream

4-week Morning (Mon,Wed,Fri) 9:00 am-1:00 pm - Plus last weekend

(Livestream) Real Estate 63-Hour Sales Associate Pre-License Course

10/18 - 11/14

NOrl-OBT

4-week Morning (Mon,Wed,Fri) 9:00 am-1:00 pm - Plus last weekend

(Classroom) Real Estate 63-Hour Sales Associate Pre-License Course

10/18 - 11/14

North Miami

4-week Morning (Mon,Wed,Fri) 9:00 am-1:00 pm - Plus last weekend

(Classroom) Real Estate 63-Hour Sales Associate Pre-License Course

10/18 - 11/14

South Dade (Doral)

4-week Morning (Mon,Wed,Fri) 9:00 am-1:00 pm - Plus last weekend

(Classroom) Real Estate 63-Hour Sales Associate Pre-License Course

10/18 - 11/14

Tamarac (Broward)

4-week Morning (Mon,Wed,Fri) 9:00 am-1:00 pm - Plus last weekend

(Classroom) Real Estate 63-Hour Sales Associate Pre-License Course

10/18 - 11/14

West Palm Beach (Lantana)

4-week Morning (Mon,Wed,Fri) 9:00 am-1:00 pm - Plus last weekend

(Classroom) Real Estate 63-Hour Sales Associate Pre-License Course

10/18 - 11/14

Boca Raton

4-week evening (Mon,Wed,Fri) 6:30 pm-10:30 pm- Plus last weekend

(Classroom) Real Estate 63-Hour Sales Associate Pre-License Course

10/18 - 11/14

East Orlando

4-week evening (Mon,Wed,Fri) 6:30 pm-10:30 pm- Plus last weekend

(Classroom) Real Estate 63-Hour Sales Associate Pre-License Course

10/18 - 11/11

Kissimmee

4-week evening (Mon-Thurs) 6:30pm-10:30pm

(Classroom) Real Estate 63-Hour Sales Associate Pre-License Course

10/18 - 11/14

LiveStream

4-week evening (Mon,Wed,Fri) 6:30 pm-10:30 pm- Plus last weekend

(Livestream) Real Estate 63-Hour Sales Associate Pre-License Course

10/18 - 11/14

North Miami

4-week evening (Mon,Wed,Fri) 6:30 pm-10:30 pm- Plus last weekend

(Classroom) Real Estate 63-Hour Sales Associate Pre-License Course

10/18 - 11/14

South Dade (Doral)

4-week evening (Mon,Wed,Fri) 6:30 pm-10:30 pm- Plus last weekend

(Classroom) Real Estate 63-Hour Sales Associate Pre-License Course

10/18 - 11/14

Stuart

4-week evening (Mon,Wed,Fri) 6:30 pm-10:30 pm- Plus last weekend

(Classroom) Real Estate 63-Hour Sales Associate Pre-License Course

10/18 - 11/14

Tamarac (Broward)

4-week evening (Mon,Wed,Fri) 6:30 pm-10:30 pm- Plus last weekend

(Classroom) Real Estate 63-Hour Sales Associate Pre-License Course

10/18 - 11/14

West Palm Beach (Lantana)

4-week evening (Mon,Wed,Fri) 6:30 pm-10:30 pm- Plus last weekend

(Classroom) Real Estate 63-Hour Sales Associate Pre-License Course

10/19 - 11/23

Clermont

5-week nights (Tu-W-Th) 6:00-10:00pm

(Classroom) Real Estate 63-Hour Sales Associate Pre-License Course

10/25 - 10/31

Boca Raton

7 Day: 1 Week (Mon - Sun) 9:00am-6:00pm

(Classroom) Real Estate 63-Hour Sales Associate Pre-License Course

10/25 - 10/31

Deland

7 Day: 1 Week (Mon - Sun) 9:00am-6:00pm

(Classroom) Real Estate 63-Hour Sales Associate Pre-License Course

10/25 - 10/31

East Orlando

7 Day: 1 Week (Mon - Sun) 9:00am-6:00pm

(Classroom) Real Estate 63-Hour Sales Associate Pre-License Course

10/25 - 10/31

LiveStream

7 Day: 1 Week (Mon - Sun) 9:00am-6:00pm

(Livestream) Real Estate 63-Hour Sales Associate Pre-License Course

10/25 - 10/31

NOrl-OBT

7 Day: 1 Week (Mon - Sun) 9:00am-6:00pm

(Classroom) Real Estate 63-Hour Sales Associate Pre-License Course

10/25 - 10/31

North Miami

7 Day: 1 Week (Mon - Sun) 9:00am-6:00pm

(Classroom) Real Estate 63-Hour Sales Associate Pre-License Course

10/25 - 10/31

South Dade (Doral)

7 Day: 1 Week (Mon - Sun) 9:00am-6:00pm

(Classroom) Real Estate 63-Hour Sales Associate Pre-License Course

10/25 - 10/31

Tamarac (Broward)

7 Day: 1 Week (Mon - Sun) 9:00am-6:00pm

(Classroom) Real Estate 63-Hour Sales Associate Pre-License Course

10/25 - 10/31

West Palm Beach (Lantana)

7 Day: 1 Week (Mon - Sun) 9:00am-6:00pm

(Classroom) Real Estate 63-Hour Sales Associate Pre-License Course

November 2021

11/01 - 11/15

WaterfordLakes

2-week (Mon - Fri) 3:00pm-9:00pm

(Classroom) Real Estate 63-Hour Sales Associate Pre-License Course

11/05 - 11/21

Celebration

3-week weekends (Fri,Sat,Sun) 6:30-10:30pm & 9am-6pm

(Classroom) Real Estate 63-Hour Sales Associate Pre-License Course

11/05 - 11/21

LiveStream

3-week weekends (Fri,Sat,Sun) 6:30-10:30pm & 9am-6pm

(Livestream) Real Estate 63-Hour Sales Associate Pre-License Course

11/08 - 11/14

Boca Raton

7 Day: 1 Week (Mon - Sun) 9:00am-6:00pm

(Classroom) Real Estate 63-Hour Sales Associate Pre-License Course

11/08 - 11/14

East Orlando

7 Day: 1 Week (Mon - Sun) 9:00am-6:00pm

(Classroom) Real Estate 63-Hour Sales Associate Pre-License Course

11/08 - 11/14

Kissimmee

7 Day: 1 Week (Mon - Sun) 9:00am-6:00pm

(Classroom) Real Estate 63-Hour Sales Associate Pre-License Course

11/08 - 11/14

LiveStream

7 Day: 1 Week (Mon - Sun) 9:00am-6:00pm

(Livestream) Real Estate 63-Hour Sales Associate Pre-License Course

11/08 - 11/19

MountDora

2-week (Mon - Fri) 9:00am-3:00pm

(Classroom) Real Estate 63-Hour Sales Associate Pre-License Course

11/08 - 11/14

North Miami

7 Day: 1 Week (Mon - Sun) 9:00am-6:00pm

(Classroom) Real Estate 63-Hour Sales Associate Pre-License Course

11/08 - 11/14

South Dade (Doral)

7 Day: 1 Week (Mon - Sun) 9:00am-6:00pm

(Classroom) Real Estate 63-Hour Sales Associate Pre-License Course

11/08 - 11/14

Tamarac (Broward)

7 Day: 1 Week (Mon - Sun) 9:00am-6:00pm

(Classroom) Real Estate 63-Hour Sales Associate Pre-License Course

11/08 - 11/14

West Palm Beach (Lantana)

7 Day: 1 Week (Mon - Sun) 9:00am-6:00pm

(Classroom) Real Estate 63-Hour Sales Associate Pre-License Course

11/15 - 12/12

Boca Raton

4-week Morning (Mon,Wed,Fri) 9:00 am-1:00 pm - Plus last weekend

(Classroom) Real Estate 63-Hour Sales Associate Pre-License Course

11/15 - 12/12

East Orlando

4-week Morning (Mon,Wed,Fri) 9:00 am-1:00 pm - Plus last weekend

(Classroom) Real Estate 63-Hour Sales Associate Pre-License Course

11/15 - 12/12

LiveStream

4-week Morning (Mon,Wed,Fri) 9:00 am-1:00 pm - Plus last weekend

(Livestream) Real Estate 63-Hour Sales Associate Pre-License Course

11/15 - 12/12

North Miami

4-week Morning (Mon,Wed,Fri) 9:00 am-1:00 pm - Plus last weekend

(Classroom) Real Estate 63-Hour Sales Associate Pre-License Course

11/15 - 12/12

South Dade (Doral)

4-week Morning (Mon,Wed,Fri) 9:00 am-1:00 pm - Plus last weekend

(Classroom) Real Estate 63-Hour Sales Associate Pre-License Course

11/15 - 12/12

Tamarac (Broward)

4-week Morning (Mon,Wed,Fri) 9:00 am-1:00 pm - Plus last weekend

(Classroom) Real Estate 63-Hour Sales Associate Pre-License Course

11/15 - 12/12

West Palm Beach (Lantana)

4-week Morning (Mon,Wed,Fri) 9:00 am-1:00 pm - Plus last weekend

(Classroom) Real Estate 63-Hour Sales Associate Pre-License Course

11/15 - 12/12

Boca Raton

4-week evening (Mon,Wed,Fri) 6:30 pm-10:30 pm- Plus last weekend

(Classroom) Real Estate 63-Hour Sales Associate Pre-License Course

11/15 - 12/12

East Orlando

4-week evening (Mon,Wed,Fri) 6:30 pm-10:30 pm- Plus last weekend

(Classroom) Real Estate 63-Hour Sales Associate Pre-License Course

11/15 - 12/12

LiveStream

4-week evening (Mon,Wed,Fri) 6:30 pm-10:30 pm- Plus last weekend

(Livestream) Real Estate 63-Hour Sales Associate Pre-License Course

11/15 - 12/12

NOrl-OBT

4-week evening (Mon,Wed,Fri) 6:30 pm-10:30 pm- Plus last weekend

(Classroom) Real Estate 63-Hour Sales Associate Pre-License Course

11/15 - 12/12

North Miami

4-week evening (Mon,Wed,Fri) 6:30 pm-10:30 pm- Plus last weekend

(Classroom) Real Estate 63-Hour Sales Associate Pre-License Course

11/15 - 12/12

South Dade (Doral)

4-week evening (Mon,Wed,Fri) 6:30 pm-10:30 pm- Plus last weekend

(Classroom) Real Estate 63-Hour Sales Associate Pre-License Course

11/15 - 12/12

Tamarac (Broward)

4-week evening (Mon,Wed,Fri) 6:30 pm-10:30 pm- Plus last weekend

(Classroom) Real Estate 63-Hour Sales Associate Pre-License Course

11/15 - 12/12

West Palm Beach (Lantana)

4-week evening (Mon,Wed,Fri) 6:30 pm-10:30 pm- Plus last weekend

(Classroom) Real Estate 63-Hour Sales Associate Pre-License Course

11/29 - 12/05

Boca Raton

7 Day: 1 Week (Mon - Sun) 9:00am-6:00pm

(Classroom) Real Estate 63-Hour Sales Associate Pre-License Course

11/29 - 12/05

Deland

7 Day: 1 Week (Mon - Sun) 9:00am-6:00pm

(Classroom) Real Estate 63-Hour Sales Associate Pre-License Course

11/29 - 12/05

East Orlando

7 Day: 1 Week (Mon - Sun) 9:00am-6:00pm

(Classroom) Real Estate 63-Hour Sales Associate Pre-License Course

11/29 - 12/05

LiveStream

7 Day: 1 Week (Mon - Sun) 9:00am-6:00pm

(Livestream) Real Estate 63-Hour Sales Associate Pre-License Course

11/29 - 12/05

NOrl-OBT

7 Day: 1 Week (Mon - Sun) 9:00am-6:00pm

(Classroom) Real Estate 63-Hour Sales Associate Pre-License Course

11/29 - 12/05

North Miami

7 Day: 1 Week (Mon - Sun) 9:00am-6:00pm

(Classroom) Real Estate 63-Hour Sales Associate Pre-License Course

11/29 - 12/05

South Dade (Doral)

7 Day: 1 Week (Mon - Sun) 9:00am-6:00pm

(Classroom) Real Estate 63-Hour Sales Associate Pre-License Course

11/29 - 12/05

Tamarac (Broward)

7 Day: 1 Week (Mon - Sun) 9:00am-6:00pm

(Classroom) Real Estate 63-Hour Sales Associate Pre-License Course

11/29 - 12/05

West Palm Beach (Lantana)

7 Day: 1 Week (Mon - Sun) 9:00am-6:00pm

(Classroom) Real Estate 63-Hour Sales Associate Pre-License Course

December 2021

12/06 - 12/12

Stuart

7 Day: 1 Week (Mon - Sun) 9:00am-6:00pm

(Classroom) Real Estate 63-Hour Sales Associate Pre-License Course

12/06 - 12/20

Lake Nona

2-week (Mon - Fri) 3:00pm-9:00pm

(Classroom) Real Estate 63-Hour Sales Associate Pre-License Course

12/13 - 12/19

Boca Raton

7 Day: 1 Week (Mon - Sun) 9:00am-6:00pm

(Classroom) Real Estate 63-Hour Sales Associate Pre-License Course

12/13 - 12/19

East Orlando

7 Day: 1 Week (Mon - Sun) 9:00am-6:00pm

(Classroom) Real Estate 63-Hour Sales Associate Pre-License Course

12/13 - 12/19

LiveStream

7 Day: 1 Week (Mon - Sun) 9:00am-6:00pm

(Livestream) Real Estate 63-Hour Sales Associate Pre-License Course

12/13 - 12/19

NOrl-OBT

7 Day: 1 Week (Mon - Sun) 9:00am-6:00pm

(Classroom) Real Estate 63-Hour Sales Associate Pre-License Course

12/13 - 12/19

North Miami

7 Day: 1 Week (Mon - Sun) 9:00am-6:00pm

(Classroom) Real Estate 63-Hour Sales Associate Pre-License Course

12/13 - 12/19

South Dade (Doral)

7 Day: 1 Week (Mon - Sun) 9:00am-6:00pm

(Classroom) Real Estate 63-Hour Sales Associate Pre-License Course

12/13 - 12/19

Tamarac (Broward)

7 Day: 1 Week (Mon - Sun) 9:00am-6:00pm

(Classroom) Real Estate 63-Hour Sales Associate Pre-License Course

12/13 - 12/19

West Palm Beach (Lantana)

7 Day: 1 Week (Mon - Sun) 9:00am-6:00pm

(Classroom) Real Estate 63-Hour Sales Associate Pre-License Course