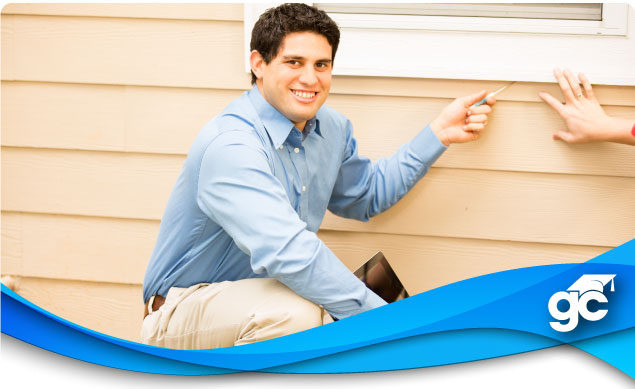 Florida Home Inspector Online Pre-license Course
Become a licensed Florida Home Inspector!
This online course is meant to meet the initial licensure education requirement for Florida home inspectors.  This online course enables you to study at your own pace and gain the training needed to diversify into the field of home inspection.
If you have any questions, please contact our helpful Career Counselors at 1-800-732-9140.  We are happy to assist.
Tuition: $949
---
The Principles of Home Inspection – Initial Training course provides the most thorough distance training for home inspection available. This 120 hour presentation is designed to introduce and/or reinforce a Home Inspection Professional's understanding of:
A building's components and systems
Proper inspection procedures & methods
Acceptable component test protocols
Life expectancy of components
A review of various reporting terminologies and vernaculars
Forms to be used for a professional home inspection report.
Principles of Home Inspection is based on years of practical experience in both inspecting homes and training inspectors. The course teaches a step-by-step approach to inspection for each house system:
Surveying problems
Explaining the practical implications of the problems
Providing inspection strategies
---
Course details and licensing requirements :
Complete the 14 learning units contained within the course

There are progress checks after each segment to guide your learning and understanding of the material

At the end of the course there is a final exam that you must pass to obtain a course completion
There are no additional materials needed or required.

You have the option to purchase a non-mandatory course book filled with valuable information to go along with the course

Upon course completion, you must pass a state approved Home Inspector exam.
Upon completing the course and passing the exam, you can then apply for licensure with the DBPR
State Exam Information:  Click Here!
Home Inspector License Application Information: Click Here!
---
DBPR Provider: #0000983
Course Approvals #: 0000885
Provider Name: Gold Coast School of Construction Inc.
Name of Course: Principles of Home Inspection- Initial Training