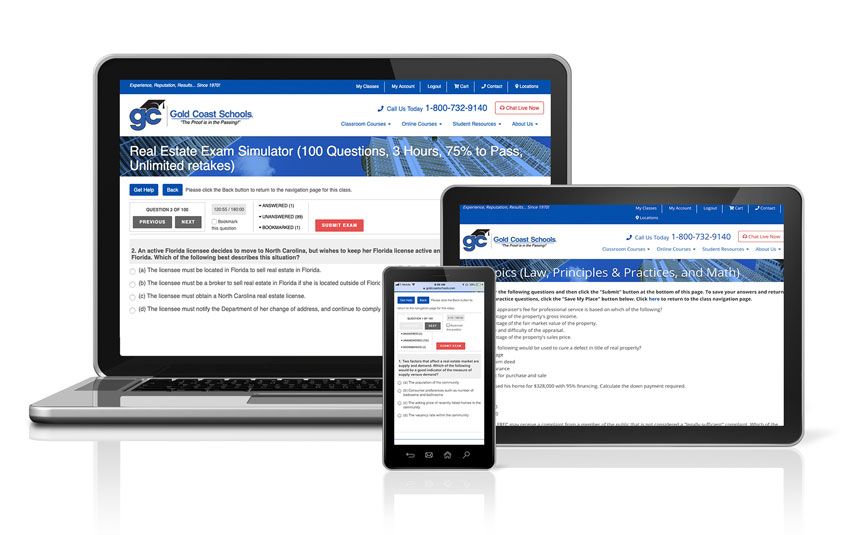 Prepare to Pass The Florida Real Estate Exam!

This online exam prep package will fully prepare you for all aspects of the exam.
It includes:
A State Exam Simulator

Allows you to take true sample tests just like you will face on the actual state exam

Additional Topic Based Online Practice Questions

Randomly selected practice questions from a pool of more than 1,200 professionally written questions designed to test your knowledge and readiness
See below for complete details.  
---
Real Estate Exam Prep Package:  $59.99  

Register Now
---

State Exam Simulator
Simulate taking the actual state licensing exam!  Each exam in this simulator will be a timed, 100 question exam, just like you will face when taking the actual state exam.  You will receive a new set of questions from a pool of over 1,200 professionally written questions based on years of experience and feedback from previous students.  You will be provided with your score along with a detailed report of incorrect answers upon completion.  Any incorrect answers will be accompanied by rationale and math solutions that explain the correct answer so that you gain a better understanding of the concept.
---

Additional Online Practice Questions
These are great for students who want to review smaller sets of online practice questions based on a specific topic area.
These randomly generated practice questions can be selected by topic, and focus on real estate law, principles & practices, or math.  References and rationale for each question are provided to explain the correct answer in further detail.  By reviewing these questions and understanding the applicable concept, you will gain the knowledge and confidence needed to pass the state exam with ease.
---