We offer many items to help you prepare for the Real Estate Sales Associate or Brokers state exams. Items include textbooks and optional study aids such as Audio CDs, Interactive DVDs, and many other items.
Gold Coast has developed these study aids to help students retain the essential information needed to pass the state exam and launch their careers. We have found that the students who have the most success are those who repeatedly review the material that enables them to transform the information into knowledge. The following study aids in various formats are tailored to your preferred method of learning and will significantly increase your success in preparing for the state exam.
Bookstore items can be purchased online or by calling our Career Counselors at 1-800-732-9140.
Image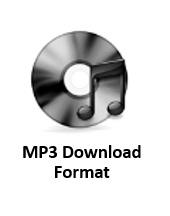 Name
63-hour Sales Associate Audio Review
Description
A chapter-by-chapter audio overview of key points within the 63-hour real estate sales associate pre-license course perfect for studying on the go. Simply purchase this item and you will have instant access to downloadable .mp3 files that can be listened to from anywhere.
Image

Name
Real Estate Broker Post-Licensing: Advanced Topics Textbook
Description
Broker Post-license Advance Topics course textbook.
Image

Name
Real Estate Broker Post-Licensing: Management Textbook
Description
Broker Post-license Management course textbook.
Image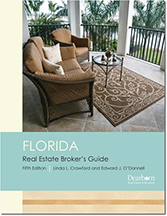 Name
Real Estate Broker Pre-Licensing: Brokers Guide, 4th Edition
Description
Approved by the sate of Florida, this text is essential for all broker students.The guide includes all necessary topics for the broker exam, complete with end-of-chapter questions and a practice final exam.
Image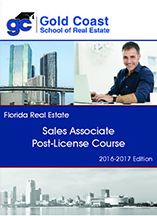 Name
Real Estate Sales Associate: Post-Licensing Text-Book
Description
Updated regularly to reflect changes in Florida license law, this new edition features expanded discussion on lead generation, financing, and Fair Housing Laws. Post-Licensing for Real Estate Sales Associates also covers topics such as license and general real estate law, real estate principles and practices, business planning, time management and contracts. This title fulfills the 45-hour state requirement for this course.
Image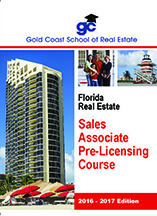 Name
Real Estate Sales Associate: Pre-Licensing Course Text-book
Description
This comprehensive text offers current updates on Florida legislative changes. It comes with complete instructor support materials for everything you need to successfully prepare yourself the Florida Sales Associate state exam, including practice exams and teaching outlines.
Image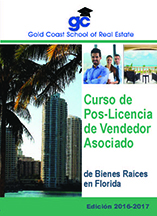 Name
Spanish: Curso Post-Licencia para Vendedores Asociados de Bienes Raices
Description
Actualizado periódicamente para reflejar los cambios en la ley de la Florida. Este título cumple con el requisito estatal de 45 horas para este curso .
Image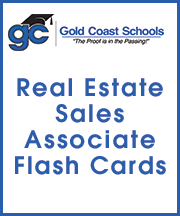 Name
Study Aids: Real Estate Flash Cards
Description
FLASH CARDS: Review important real estate terms just about anywhere in a flash!
Image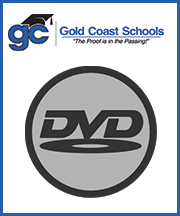 Name
Study Aids: Real Estate Key Point DVD
Description
Geared towards the real estate sales associate. The Key Point DVD covers essential information that will help you successfully prepare for the exam and give you a better understanding of the material presented through out the course.
Image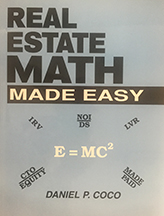 Name
Study Aids: Real Estate Math Made Easy textbook
Description
This publication will teach you real estate and investment math. The formulas are presented n a very simple and easy to understand manner and can be used to solve extremely complex problems. Not only will it be helpful in passing your real estate exam but you will use them many times in the real world when putting real estate deals together. Take full advantage of the intent of this publication: To make real estate math easier for your.
Image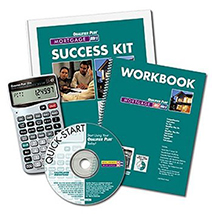 Name
Study Aids: Real Estate Qualifier+ IIIfx Calculator, Workbook, and Operation Instructions Link
Description
CALCULATOR PACKAGE: The world's best finance & qualifying calculator. Impress your clients with fast, accurate answers to all their Real Estate finance problems with the world's most complete and easy-to-use qualifying calculator. Have the answers to tough financing questions at your fingertips! Unlike a regular calculator, the Qualifier Plus IIIfx has custom and intuitive mortgage & qualifying keys; that allow you to solve hundreds of real estate problems quickly and accurately. No confusing keys or functions. You can use this calculator when taking the Florida Real Estate Associate state exam or the Florida Real Estate Broker state exam. Includes everything you need! Including the Qualifier IIx Plus Calculator, Workbook and link to web instructions on how to use it.
Image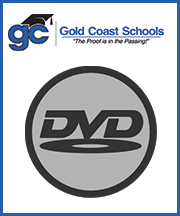 Name
Study Aids: Real Estate Test Taking Techniques (DVD)
Description
TEST TAKING TECHNIQUES VIDEO: Learn the simple easy to remember techniques that can improve your scores on any type of exam!
Image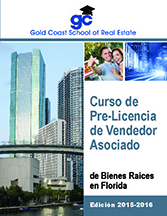 Name
Textbook: Spanish Sales Associate Pre-license
Description
Course textbook for the Florida Sales Associate Pre-license course in Spanish.