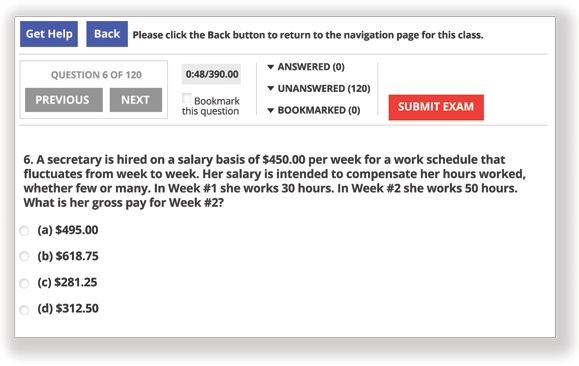 Florida Building Inspectors /Plans Examiners Practice Exams

Gold Coast's Building Inspector Practice Exam Simulators are designed to give you a true state exam experience in an online prep environment. The practice exams mirror the actual state exam enabling you to fully prepare to pass and achieve your Building Inspector's license.
You can utilize these practice exams as often as you would like. Each time you run a new exam, a randomly selected set of questions will be created from a large content area question pool. After each exam, you will receive a list of any questions that you answered incorrectly along with a reference and/or rationale explaining the correct answer choice.
---
Building Inspector / Plans Examiners- Principles of Laws & Rules Exam Simulator
$49.95
This Florida Contractor's Exam Prep simulator includes hundreds of professionally written questions that will aid you in preparing for the Laws and Rules portion of your state Building Inspectors / Plans Examiners exam.
Since the exam is given by the state in a computer-based format, our practice exam simulator provides you with an added advantage!  The state exam is a 50 question exam where test takers are allowed 2.5 hours to complete it.
The exam and exam prep tool will cover all of the following topics:
Building Construction Standards

Chapter 553, F.S.,
Chapters 61-41, F.A.C., (formerly 9B-1, F.A.C.)
Florida Accessibility Code for Building Construction
Florida Energy Efficiency Code
Chapter 760, Part II, F.S. Fair Housing Act

Electrical Contracting Licensing Board

Chapter 489, Parts I, II, III, F.S.
Chapter 61G-6, F.A.C.
Chapter 61G-4, F.A.C.

Building Code Administrators & Inspectors Board

Chapter 468, Part XII, F.S.
Chapter 61G19, F.A.C.
Chapter 455, F.S. DBPR
Chapter 112, Part III, F.S., Code of Ethics

Engineering & Architecture, Interior Design & Landscape Architecture

Chapter 471, F.S. Engineering
Chapter 61G15, F.A.C., Engineering
Chapter 481, F.S., Architecture, Interior Design & Landscape Architecture
Chapter 61G10, F.A.C., Board of Landscape Architecture

Coast Zone Protection

Chapter 161, Part III, F.S., Coastal Zone Protection
Title 44 CFR, Chapter 1, Parts 59-66

Motor Vehicle License

Chapter 320.77-320.8325, FS,
Chapter 15C-1 F.A.C.

Workers' Compensation, Chapter 440, F.S.
Construction Liens, Chapter 713, Part I, F.S.
---