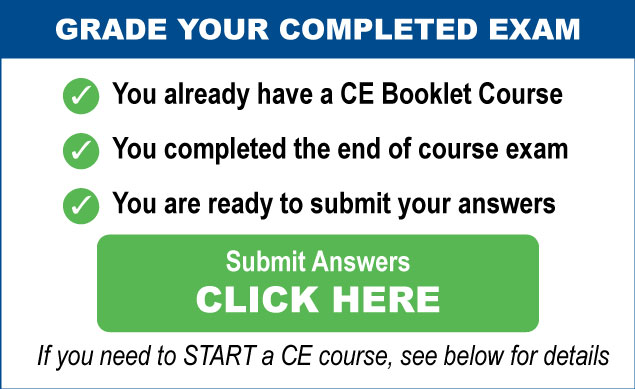 Florida Real Estate Continuing Education Course
In the state of Florida, real estate sales associates and brokers are required to complete 14-hours of approved continuing education every two years, before their license expiration date.  This date can be found printed on your license, or by visiting the DBPR at www.myfloridalicense.com .
Nobody makes it easier to complete your required continuing education than Gold Coast Schools.  Below you will find information about our (1) classroom, (2) online, and (3) correspondence textbook options.
Please contact our helpful Career Counselors at 1-800-732-9140 if you have any questions.  We are happy to assist!
Florida Real Estate Continuing Education Made Easy!
(All options of the 14-hour continuing education course include the Core Law and Business Ethics requirements)
Classroom Course

:

$99.00
(View Course Schedule tab for a list of upcoming classes.)
If you are looking to renew your Florida Real Estate License and need to fulfill the 14-hour continuing education requirement, our classroom course is a great option.  There is no exam at the end of classroom based continuing education courses.  Simply enjoy a lively review of the new State and Federal laws affecting real estate, take advantage of the opportunity to network with others in the industry, and at the end of the course, we will report your completion records to the state for you.
---
Online Course:

$19.95
You can now complete your 14 hour continuing education with our convenient and easy-to-use online course using your personal computer or iPad.  Upon registration you will be given immediate access to your course.  This course is designed to be easy to use, navigate, and complete.
Your course will be active for 1 year from the date of purchase, however we recommend completing your course far in advance of your license renewal deadline to ensure that your course completion is reported before the deadline.
---
Grade Your Textbook:


$19.95
Have you already complete your CE textbook exam?  Grade your answers online for immediate results:
Need a copy of a continuing education textbook?
If you are interested in taking your CE course by receiving a textbook and completing a paper exam, simply stop by any of our campus locations and pick up your book.  You may also contact our Career Counselors at 1-800-732-9140 and we will arrange to send a book to you in the mail.  Payment for your correspondence course is due when you submit your answers for grading.
Upon completing your exam in the back of the book, grading can be done through the following methods:
Use our online grading to pay for your course and submit your answers 

Click Here for Online Grading

Stop by any of our 5 locations during business hours to have your answers graded in person
Mail your completed exam along with

check

payment to: Gold Coast Schools – 5600 Hiatus Rd. Tamarac, FL 33321
Either way, we provide fast results!
---
Below you will find registration options for both Live Stream and Classroom classes.
To register for class, simply click on the "Register Now" button next to the course offering below, or contact our helpful Career Counselors at 1-800-732-9140.  We are happy to assist.
Tuition for this course: $99.00
(Meets all continuing education requirements including Core Law and Business Ethics)
August 2020

08/15 - 08/16

Boca Raton

2 Days 9:00 am-4:30 pm

14-Hr Real Estate CE (w/Ethics and Core Law)

08/15 - 08/16

East Orlando

2 Days 9:00 am-4:30 pm

14-Hr Real Estate CE (w/Ethics and Core Law)

08/15 - 08/16

LiveStream

2 Days 9:00 am-4:30 pm

14-Hr Real Estate CE (Live Stream)

08/15 - 08/16

North Miami

2 Days 9:00 am-4:30 pm

14-Hr Real Estate CE (w/Ethics and Core Law)

08/15 - 08/16

South Dade (Doral)

2 Days 9:00 am-4:30 pm

14-Hr Real Estate CE (w/Ethics and Core Law)

08/15 - 08/16

Tamarac (Broward)

2 Days 9:00 am-4:30 pm

14-Hr Real Estate CE (w/Ethics and Core Law)

08/15 - 08/16

West Palm Beach (Lantana)

2 Days 9:00 am-4:30 pm

14-Hr Real Estate CE (w/Ethics and Core Law)

08/29 - 08/30

Kissimmee

2 Days 9:00 am-4:30 pm

14-Hr Real Estate CE (w/Ethics and Core Law)

08/29 - 08/30

Stuart

2 Days 9:00 am-4:30 pm

14-Hr Real Estate CE (w/Ethics and Core Law)

08/29 - 08/30

LiveStream

2 Days 9:00 am-4:30 pm

14-Hr Real Estate CE (Live Stream)

September 2020

09/08 - 09/09

Boca Raton

2 Days 9:00 am-4:30 pm

14-Hr Real Estate CE (w/Ethics and Core Law)

09/08 - 09/09

East Orlando

2 Days 9:00 am-4:30 pm

14-Hr Real Estate CE (w/Ethics and Core Law)

09/08 - 09/09

LiveStream

2 Days 9:00 am-4:30 pm

14-Hr Real Estate CE (Live Stream)

09/08 - 09/09

North Miami

2 Days 9:00 am-4:30 pm

14-Hr Real Estate CE (w/Ethics and Core Law)

09/08 - 09/09

South Dade (Doral)

2 Days 9:00 am-4:30 pm

14-Hr Real Estate CE (w/Ethics and Core Law)

09/08 - 09/09

Tamarac (Broward)

2 Days 9:00 am-4:30 pm

14-Hr Real Estate CE (w/Ethics and Core Law)

09/08 - 09/09

West Palm Beach (Lantana)

2 Days 9:00 am-4:30 pm

14-Hr Real Estate CE (w/Ethics and Core Law)

09/10 - 09/10

West Palm Beach (Lantana)

1 Day 9:00 am-1:00 pm

4-hour Instructional Techniques CE

09/12 - 09/13

Boca Raton

2 Days 9:00 am-4:30 pm

14-Hr Real Estate CE (w/Ethics and Core Law)

09/12 - 09/13

East Orlando

2 Days 9:00 am-4:30 pm

14-Hr Real Estate CE (w/Ethics and Core Law)

09/12 - 09/13

LiveStream

2 Days 9:00 am-4:30 pm

14-Hr Real Estate CE (Live Stream)

09/12 - 09/13

North Miami

2 Days 9:00 am-4:30 pm

14-Hr Real Estate CE (w/Ethics and Core Law)

09/12 - 09/13

South Dade (Doral)

2 Days 9:00 am-4:30 pm

14-Hr Real Estate CE (w/Ethics and Core Law)

09/12 - 09/13

Tamarac (Broward)

2 Days 9:00 am-4:30 pm

14-Hr Real Estate CE (w/Ethics and Core Law)

09/12 - 09/13

West Palm Beach (Lantana)

2 Days 9:00 am-4:30 pm

14-Hr Real Estate CE (w/Ethics and Core Law)

December 2020

12/08 - 12/08

South Dade (Doral)

1 Day 9:00 am-1:00 pm

4-hour Instructional Techniques CE