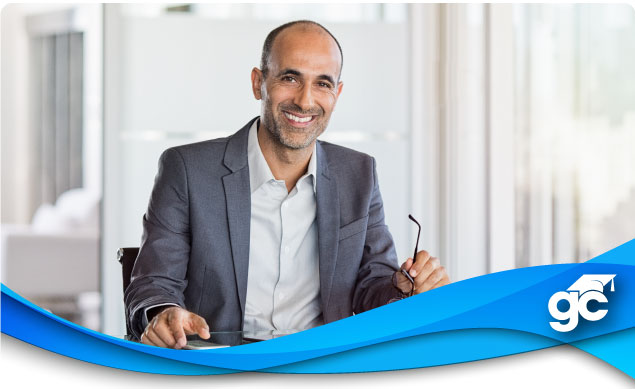 Become a Licensed Mortgage Loan Originator (MLO)
Mortgage Pre-license course required to get your Florida license.
(Includes the required 2-hour Florida SAFE Comprehensive Course)
Gold Coast is a full service mortgage business school that is here to help you get your Mortgage Loan Originator (MLO) license through either classroom based or online education.  As a licensed MLO, you are qualified to originate a wide variety of products thus creating numerous income opportunities.
For more information, contact our Career Counselors at 1-800-732-9140.
All courses are taught by industry experienced professionals who understand what you need to know to be successful in your career.  Classes are designed to combine the course material with real world applications to provide useful and relevant information in an engaging format that you will truly enjoy.
Gold Coast offers convenient weekday and weekend courses to meet your scheduling needs.  Please contact our helpful Career Counselors at 1-800-732-9140 if you have any questions.  We are happy to assist.
Classroom Course Schedule:
Full Service (All Required Courses + Exam Prep Course + Save $29!) – $399  Purchase Full Service Package
20-hour SAFE Comprehensive Course (Required)
2-hour FL SAFE Comprehensive Course (Required for Florida)
MLO National Exam Prep course (Optional live classroom review for passing the licensing exam
Courses Only (All Required Courses) – $299
(Please use the Register Now links next to the class offerings below or call 1-800-732-9140 to reserve your seat.)
20-hour SAFE Comprehensive Course (Required)
2-hour FL SAFE Comprehensive Course (Required for Florida)
The course is available in the following formats:
Weekend schedule: 2 1/2 days – Fri 1:00pm-6:00pm & Sat-Sun 9:00am-6:30pm
Weekday schedule: 3 days – Tues/Wed/Thur 9:00am-5:00pm
April 2020

04/03 - 04/05

Boca Raton

Weekend - Fri 1pm-6pm + Sat&Sun 9am-6:30pm

04/07 - 04/09

Orlando

Weekday - Tues/Wed/Thur 9:00am-5:00pm

04/14 - 04/16

Tamarac (Broward)

Weekday - Tues/Wed/Thur 9:00am-5:00pm

May 2020

05/01 - 05/03

South Dade (Doral)

Weekend - Fri 1pm-6pm + Sat&Sun 9am-6:30pm

05/05 - 05/07

South Dade (Doral)

Weekday - Tues/Wed/Thur 9:00am-5:00pm

05/12 - 05/14

Orlando

Weekday - Tues/Wed/Thur 9:00am-5:00pm

05/15 - 05/17

Tamarac (Broward)

Weekend - Fri 1pm-6pm + Sat&Sun 9am-6:30pm

05/15 - 05/17

West Palm Beach (Lantana)

Weekend - Fri 1pm-6pm + Sat&Sun 9am-6:30pm

05/29 - 05/31

North Miami

Weekend - Fri 1pm-6pm + Sat&Sun 9am-6:30pm

June 2020

06/05 - 06/07

South Dade (Doral)

Weekend - Fri 1pm-6pm + Sat&Sun 9am-6:30pm

06/12 - 06/14

Boca Raton

Weekend - Fri 1pm-6pm + Sat&Sun 9am-6:30pm

06/12 - 06/14

Orlando

Weekend - Fri 1pm-6pm + Sat&Sun 9am-6:30pm

06/23 - 06/25

Tamarac (Broward)

Weekday - Tues/Wed/Thur 9:00am-5:00pm

July 2020

07/10 - 07/12

Tamarac (Broward)

Weekend - Fri 1pm-6pm + Sat&Sun 9am-6:30pm

07/14 - 07/16

South Dade (Doral)

Weekday - Tues/Wed/Thur 9:00am-5:00pm

07/17 - 07/19

West Palm Beach (Lantana)

Weekend - Fri 1pm-6pm + Sat&Sun 9am-6:30pm

07/24 - 07/26

North Miami

Weekend - Fri 1pm-6pm + Sat&Sun 9am-6:30pm

07/24 - 07/26

Orlando

Weekend - Fri 1pm-6pm + Sat&Sun 9am-6:30pm

07/31 - 08/02

South Dade (Doral)

Weekend - Fri 1pm-6pm + Sat&Sun 9am-6:30pm

August 2020

08/14 - 08/16

Boca Raton

Weekend - Fri 1pm-6pm + Sat&Sun 9am-6:30pm

08/14 - 08/16

South Dade (Doral)

Weekend - Fri 1pm-6pm + Sat&Sun 9am-6:30pm

08/18 - 08/20

Tamarac (Broward)

Weekday - Tues/Wed/Thur 9:00am-5:00pm

08/25 - 08/27

Orlando

Weekday - Tues/Wed/Thur 9:00am-5:00pm

September 2020

09/08 - 09/10

South Dade (Doral)

Weekday - Tues/Wed/Thur 9:00am-5:00pm

09/11 - 09/13

Orlando

Weekend - Fri 1pm-6pm + Sat&Sun 9am-6:30pm

09/18 - 09/20

Tamarac (Broward)

Weekend - Fri 1pm-6pm + Sat&Sun 9am-6:30pm

October 2020

10/02 - 10/04

South Dade (Doral)

Weekend - Fri 1pm-6pm + Sat&Sun 9am-6:30pm

10/09 - 10/11

North Miami

Weekend - Fri 1pm-6pm + Sat&Sun 9am-6:30pm

10/09 - 10/11

Orlando

Weekend - Fri 1pm-6pm + Sat&Sun 9am-6:30pm

10/16 - 10/18

West Palm Beach (Lantana)

Weekend - Fri 1pm-6pm + Sat&Sun 9am-6:30pm

10/23 - 10/25

Boca Raton

Weekend - Fri 1pm-6pm + Sat&Sun 9am-6:30pm

10/27 - 10/29

Tamarac (Broward)

Weekday - Tues/Wed/Thur 9:00am-5:00pm

10/30 - 11/01

South Dade (Doral)

Weekend - Fri 1pm-6pm + Sat&Sun 9am-6:30pm

November 2020

11/03 - 11/05

Orlando

Weekday - Tues/Wed/Thur 9:00am-5:00pm

11/10 - 11/12

South Dade (Doral)

Weekday - Tues/Wed/Thur 9:00am-5:00pm

11/13 - 11/15

Tamarac (Broward)

Weekend - Fri 1pm-6pm + Sat&Sun 9am-6:30pm

11/17 - 11/19

Tamarac (Broward)

Weekday - Tues/Wed/Thur 9:00am-5:00pm

11/20 - 11/22

West Palm Beach (Lantana)

Weekend - Fri 1pm-6pm + Sat&Sun 9am-6:30pm

December 2020

12/04 - 12/06

South Dade (Doral)

Weekend - Fri 1pm-6pm + Sat&Sun 9am-6:30pm

12/11 - 12/13

Boca Raton

Weekend - Fri 1pm-6pm + Sat&Sun 9am-6:30pm

12/11 - 12/13

Orlando

Weekend - Fri 1pm-6pm + Sat&Sun 9am-6:30pm

12/18 - 12/20

North Miami

Weekend - Fri 1pm-6pm + Sat&Sun 9am-6:30pm