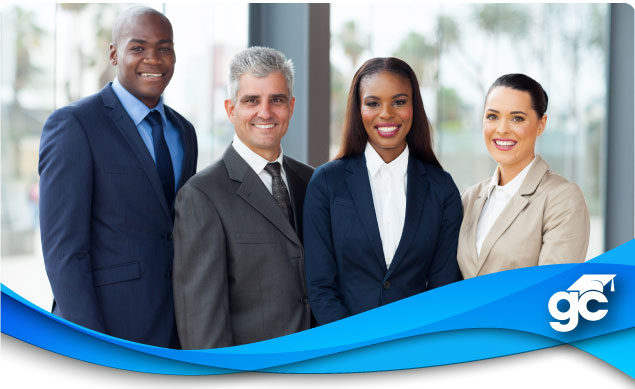 Become a Licensed 2-20 General Lines Insurance Agent Today!
Florida's Leader in Insurance Education
Gold Coast Schools offers the finest insurance licensing programs available in Florida.  The correct choice of a school is the first important decision for those entering the insurance field. It is very important to note that all schools are not created equally.
Below you will learn everything that you need to know about how to become a Property and Casualty General Lines "2-20 Agent" in the state of Florida.  If you have any questions, our helpful Career Counselors can be reached at 1-800-732-9140.
By becoming a General Lines 2-20 agent you are able to offer the following forms of insurance:
Personal Auto
Mechanical Breakdown
Homeowners/ Dwelling, etc.
Commercial Auto
Property- Commercial
General Liability
Commercial Packages
Worker's Comp
Crime
Surety
Marine- Commercial/ Ocean
Aviation Boiler and Machinery
Health
Becoming a General Lines 2-20 agent entails taking the 200-hour course which we offer in various formats.  Compare Gold Coast's Property and Casualty course to the competition and you will find that our NO MINIMUM CLASS SIZES for our evening and weekend courses, tuition that is valid for 12 months, and complimentary "Super-Cram" exam-prep with exclusive materials is the reason that so many students choose Gold Coast for their Insurance licensing courses.
We invite you to make an honest comparison and see why Gold Coast is by far the best choice:
Tuition is valid for up to one year with no retake fees

We don't believe in charging you retake fees to review or retake the class during this time

We offer day, evening, and weekend classes for your convenience
Our instructors are carefully selected based upon industry experience and presentation skills making them the best in the industry
Our modular scheduling allows you to begin most classes immediately
Our continuous scheduling allows for easy makeup and review of missed classes
Our exam-cram programs help push you over the top on the state exam
We have several permanent South Florida locations
All insurance classes are offered in conjunction with Professional Agents, Brokers and Companies Association, Inc. Approved Entity #753
Course Schedule:
Below you will find registration options for both Live Stream and Classroom classes.
To register for class, simply click on the "Register Now" button next to the course offering below, use the "Schedule Your Course" option above, or contact our helpful Career Counselors at 1-800-732-9140. We are happy to assist.
Tuition for this course is: $1199
Weekends:  Saturday and Sunday – 9:00am-5:00pm (approx. 9-11 weeks) at our Doral campus.
Evenings:  Mon/Wed/Thur – 6:30pm-10:30pm (approx. 12-14 weeks) at our Broward campus.
Days:  Mon-Fri – 9:00am-6:00pm (3 weeks) at our Broward, Doral, Lantana and Orlando campus.
July 2021

07/07 - 07/29

LiveStream

Evenings | Mon/Wed/Thur 6:30pm-10:30pm

2-20 General Lines Property & Casualty Course (LiveStream)

07/07 - 07/29

Tamarac (Broward)

Evenings | Mon/Wed/Thur 6:30pm-10:30pm

2-20 General Lines Property & Casualty Course (Blended)

07/10 - 08/01

LiveStream

Weekends | Sat & Sun 9:00am-5:00pm

2-20 General Lines Property & Casualty Course (LiveStream)

07/10 - 08/01

South Dade (Doral)

Weekends | Sat & Sun 9:00am-5:00pm

2-20 General Lines Property & Casualty Course (Blended)

07/19 - 08/06

LiveStream

Days | Mon-Fri 9:00 am - 6:00 pm

2-20 General Lines Property & Casualty Course (LiveStream)

07/19 - 08/06

Tamarac (Broward)

Days | Mon-Fri 9:00 am - 6:00 pm

2-20 General Lines Property & Casualty Course (Blended)

August 2021

08/02 - 08/26

LiveStream

Evenings | Mon/Wed/Thur 6:30pm-10:30pm

2-20 General Lines Property & Casualty Course (LiveStream)

08/02 - 08/26

Tamarac (Broward)

Evenings | Mon/Wed/Thur 6:30pm-10:30pm

2-20 General Lines Property & Casualty Course (Blended)

08/07 - 08/29

LiveStream

Weekends | Sat & Sun 9:00am-5:00pm

2-20 General Lines Property & Casualty Course (LiveStream)

08/07 - 08/29

South Dade (Doral)

Weekends | Sat & Sun 9:00am-5:00pm

2-20 General Lines Property & Casualty Course (Blended)

08/09 - 08/27

LiveStream

Days | Mon-Fri 9:00 am - 6:00 pm

2-20 General Lines Property & Casualty Course (LiveStream)

08/09 - 08/27

South Dade (Doral)

Days | Mon-Fri 9:00 am - 6:00 pm

2-20 General Lines Property & Casualty Course (Blended)

September 2021

09/01 - 09/27

LiveStream

Evenings | Mon/Wed/Thur 6:30pm-10:30pm

2-20 General Lines Property & Casualty Course (LiveStream)

09/01 - 09/27

Tamarac (Broward)

Evenings | Mon/Wed/Thur 6:30pm-10:30pm

2-20 General Lines Property & Casualty Course (Blended)

09/11 - 10/03

LiveStream

Weekends | Sat & Sun 9:00am-5:00pm

2-20 General Lines Property & Casualty Course (LiveStream)

09/11 - 10/03

South Dade (Doral)

Weekends | Sat & Sun 9:00am-5:00pm

2-20 General Lines Property & Casualty Course (Blended)

09/20 - 10/08

LiveStream

Days | Mon-Fri 9:00 am - 6:00 pm

2-20 General Lines Property & Casualty Course (LiveStream)

09/20 - 10/08

West Palm Beach (Lantana)

Days | Mon-Fri 9:00 am - 6:00 pm

2-20 General Lines Property & Casualty Course (Blended)

October 2021

10/04 - 10/22

LiveStream

Days | Mon-Fri 9:00 am - 6:00 pm

2-20 General Lines Property & Casualty Course (LiveStream)

10/04 - 10/22

Tamarac (Broward)

Days | Mon-Fri 9:00 am - 6:00 pm

2-20 General Lines Property & Casualty Course (Blended)

10/04 - 10/28

LiveStream

Evenings | Mon/Wed/Thur 6:30pm-10:30pm

2-20 General Lines Property & Casualty Course (LiveStream)

10/04 - 10/28

Tamarac (Broward)

Evenings | Mon/Wed/Thur 6:30pm-10:30pm

2-20 General Lines Property & Casualty Course (Blended)

10/09 - 10/31

LiveStream

Weekends | Sat & Sun 9:00am-5:00pm

2-20 General Lines Property & Casualty Course (LiveStream)

10/09 - 10/31

South Dade (Doral)

Weekends | Sat & Sun 9:00am-5:00pm

2-20 General Lines Property & Casualty Course (Blended)

10/25 - 11/18

LiveStream

Evenings | Mon/Wed/Thur 6:30pm-10:30pm

2-20 General Lines Property & Casualty Course (LiveStream)

10/25 - 11/18

Tamarac (Broward)

Evenings | Mon/Wed/Thur 6:30pm-10:30pm

2-20 General Lines Property & Casualty Course (Blended)

10/30 - 11/21

LiveStream

Weekends | Sat & Sun 9:00am-5:00pm

2-20 General Lines Property & Casualty Course (LiveStream)

10/30 - 11/21

South Dade (Doral)

Weekends | Sat & Sun 9:00am-5:00pm

2-20 General Lines Property & Casualty Course (Blended)

November 2021

11/01 - 11/19

LiveStream

Days | Mon-Fri 9:00 am - 6:00 pm

2-20 General Lines Property & Casualty Course (LiveStream)

11/01 - 11/19

South Dade (Doral)

Days | Mon-Fri 9:00 am - 6:00 pm

2-20 General Lines Property & Casualty Course (Blended)

11/29 - 12/17

LiveStream

Days | Mon-Fri 9:00 am - 6:00 pm

2-20 General Lines Property & Casualty Course (LiveStream)

11/29 - 12/17

West Palm Beach (Lantana)

Days | Mon-Fri 9:00 am - 6:00 pm

2-20 General Lines Property & Casualty Course (Blended)

11/29 - 12/23

LiveStream

Evenings | Mon/Wed/Thur 6:30pm-10:30pm

2-20 General Lines Property & Casualty Course (LiveStream)

11/29 - 12/23

Tamarac (Broward)

Evenings | Mon/Wed/Thur 6:30pm-10:30pm

2-20 General Lines Property & Casualty Course (Blended)

December 2021

12/04 - 12/19

LiveStream

Weekends | Sat & Sun 9:00am-5:00pm

2-20 General Lines Property & Casualty Course (LiveStream)

12/04 - 12/19

South Dade (Doral)

Weekends | Sat & Sun 9:00am-5:00pm

2-20 General Lines Property & Casualty Course (Blended)