Ethics in Professional Engineering (1 hour)
$25.00  Register Now
This 1-hour online course is designed to introduce and/or reinforce ethical concepts for the practicing engineer and design professional. This course provides a discussion of professional ethics with real life scenarios and a review of relevant statutes and rules. The course encourages meaningful thought on the definition of ethics, the importance of ethics in the construction industry, and the consequences of non-ethical behavior.
This course is approved for the following boards (only):
Course Completion and Reporting: To complete this online course, you must view all slides in the course presentation, meet the 1-hour minimum course time requirement, and pass the 10-question, multiple choice, end-of-course online exam with a score of 100% (unlimited exam retakes). Upon passing, you will be able to print the hard copy completion certificate for your records.
Course Expiry: This online course expires two years from the date of purchase. However, your completion certificates will remain indefinitely.
System Requirements: Our courses are designed to run on most computers and mobile devices.  If you have trouble with a course, our technical support team is ready and willing to assist. To view system requirements, Click Here!
---
For complete packages containing all the required renewal courses click: View Complete CE Packages!
---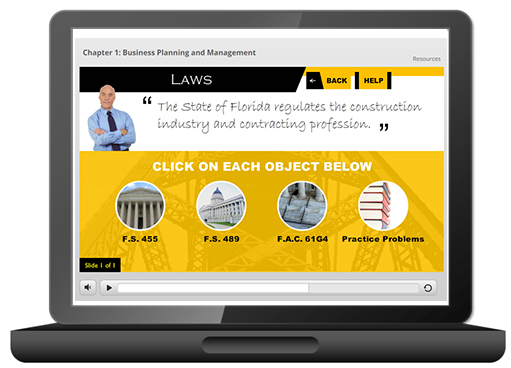 ---
DBPR Provider: #0000983
View Course Approvals: Click Here!